Buttermilk Ranch Dip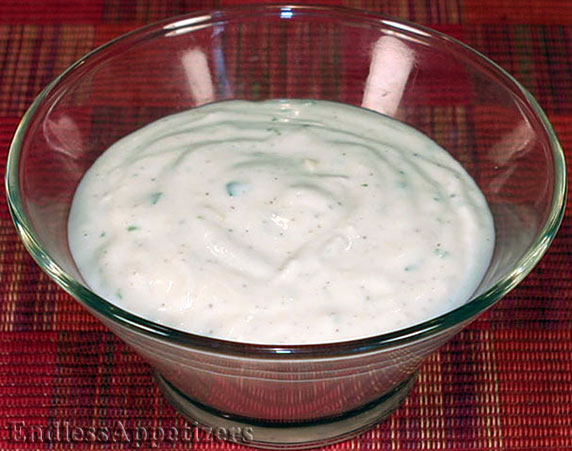 Tips:
To thin, add a little buttermilk. To thicken, add small amounts of equal parts sour cream and mayonnaise.
Buttermilk Ranch Salad Dressing has a flavor that is enjoyed by all ages, and can be used with a variety of food applications. It is made with buttermilk, sour cream, mayonnaise and a little rice vinegar, along with garlic, fresh parsley and a few other herbs and spices. It's always great with
green salads, but can also be used in potato salads, coleslaw, as dips for fresh vegetables, and in many cases as a flavor additive for a variety of recipes, such as the Cheese & Sausage Wonton Flowers appetizers. Ranch Salad dressing is also great with French fries or baked potatoes!
Buttermilk Ranch can be used as a base salad dressing that can be transformed into a variety of other salad dressings simply by adding a few additional ingredients. Chipotle Ranch Salad Dressing, for example, combines the flavors of Ranch Dressing and the zest of salsa and ground chipotle peppers for a very festive dressing, dip or filling ingredient. Prepared or pure horseradish can make Ranch Dressing come to life, giving it a fabulous "kick" that can be used in coleslaw, salads, on baked potatoes and more. Of course, this basic Buttermilk Ranch Salad Dressing recipe is delicious on its own
Ingredients
1/4 cup sour cream
1/4 cup mayonnaise
1/4 cup buttermilk
1 tablespoon fresh minced parsley
1/8 teaspoon onion powder
1 clove garlic, minced
1/4 teaspoon salt
1/4 teaspoon black pepper
2 tablespoons Parmesan cheese
2 tablespoons rice vinegar
1 1/2 teaspoons sugar
Directions
Whisk together all ingredients in a medium mixing bowl. Chill and serve as salad dressing, as a dip or as a flavor additive for recipes (see "Suggestion" above).
Other recipes you might like: