Buttermilk Ranch Dip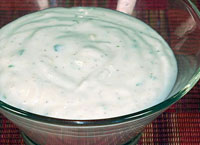 Tips:
To thin, add a little buttermilk. To thicken, add small amounts of equal parts sour cream and mayonnaise.
Ingredients
1/4 cup sour cream
1/4 cup mayonnaise
1/4 cup buttermilk
1 tablespoon fresh minced parsley
1/8 teaspoon onion powder
1 clove garlic, minced
1/4 teaspoon salt
1/4 teaspoon black pepper
2 tablespoons Parmesan cheese
2 tablespoons rice vinegar
1 1/2 teaspoons sugar
Directions
Whisk together all ingredients in a medium mixing bowl. Chill and serve as salad dressing, as a dip or as a flavor additive for recipes (see "Suggestion" above).