Chipotle Ranch Dip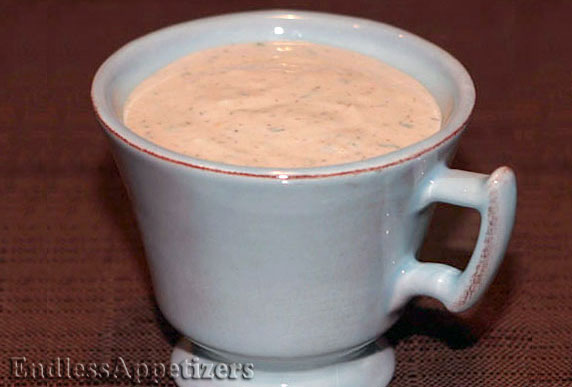 Tips:
Delicious served with green salads, coleslaws or baked potatoes, or as a dip for fresh vegetables, buffalo wings, chicken strips or nuggets, fried potato skins and more.
This homemade Chipotle Ranch dressing recipe is a zesty "pumped up" version of traditional ranch dressing recipes, in that the ingredients include dried chipotle chili powder as well as some smooth salsa. This salad dressing is delicious served with green salads (see Chicken Chipotle
Salad), and is as equally delicious served as a dip for a variety of foods, including fresh raw vegetables, buffalo wings, chicken strips or nuggets, fried potato skins and much more. This salad dressing recipe also tastes fabulous used with Taco Salad (in place of the Thousand Island Dressing the recipe calls for). The wonderfully distinct flavor of chipotle pepper that makes this ranch dressing so festive is derived from a powder form of the chipotle pepper (Chipotle Chili Powder), which is made from jalapeno peppers that have been smoked and dried. Chipotle peppers are commonly used in Mexican, Tex-Mex and Mexican-American cuisine, and add deliciously unique and lively flavor and spice to all sorts of dishes. If the salsa you would like to use with this dressing is a chunky version, you can easily blend it to a smooth consistency in your blender, then mix it into the other dressing ingredients
Ingredients
1/4 cup sour cream
1/4 cup mayonnaise
1/2 cup buttermilk
1 clove finely minced garlic
1 1/2 teaspoons finely chopped fresh parsley
1 1/2 teaspoons finely chopped fresh basil
1/4 teaspoon salt
1/4 teaspoon black pepper
1/4 teaspoon dried chipotle chili powder
1/2 cup smooth salsa
Directions
In a mixing bowl, stir or whisk together all ingredients until smooth and creamy. Serve immediately with a salad or as a dip, or cover and store in the refrigerator until ready to use. May be stored up to (or a few days past) the earliest expiration date shown on either your buttermilk or sour cream container.
Other recipes you might like: