Tahini Sauce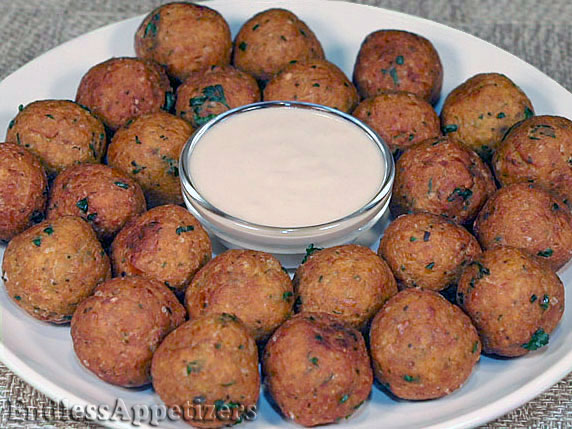 Yield:
About 3 dozen balls
Cook Time:
About 5 minutes
Tips:
Stick each ball with a toothpick for easy taking if desired.
Garbanzo Ball appetizers are made with a mixture of garbanzo beans (also known as "chickpeas"), lemon juice, minced garlic a little cayenne pepper and an assortment of herbs and spices. Garbanzo beans in this form is traditionally a Middle Eastern dish, and can also be found in Falafels (a sandwich made by
stuffing pita pocket bread with garbanzo balls or patties along with tomatoes, lettuce and Tahini sauce (a paste made from ground sesame seeds). In this recipe, the garbanzo balls are served alone as an appetizer, along with Tahini sauce for dipping. The garbanzo beans are ground up in a food processor or blender with a little lemon juice and water, creating a coarse and pasty mixture. The mixture is then transferred to a mixing bowl, and eggs, herbs and spices are added for additional spice and flavor. The garbanzo balls are then formed and fried in hot oil in less than a minute, making them crunchy on the outside and warm and chewy on the inside. This appetizer recipe contains no meat, yet provides an abundance of protein, complex carbohydrates and fiber, making this dish healthy, filling and very satisfying, not to mention fun and tasty! If you prefer, stick each garbanzo ball with a toothpick for easy taking.
Ingredients
1 11-oz. can (or 1 1/2 cups Tahini or Tehina
1 teaspoon water (or more as needed to thin consistency)
1 teaspoon lemon juice
Directions
Other recipes you might like: