Fresh Herb Yogurt Dip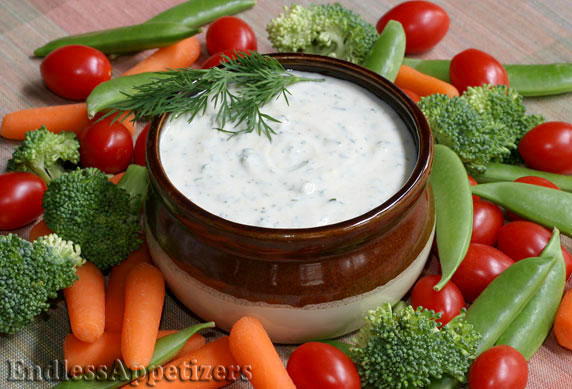 Tips:
Lemon zest is optional.
Suggestion:
Delicious served with fresh vegetables, such as baby carrots, sugar snap peas, cherry tomatoes, cauliflower, baby corn, red and/or green bell peppers, jicama, cucumbers, etc.
Fresh Herb Yogurt Dip is a light and healthy dip recipe that tastes delicious with assorted fresh vegetables. It is made with Greek yogurt, fresh dill, fresh parsley,
lemon juice and lemon zest (optional), along with some honey and Dijon mustard to give it a sweet and tangy flavor boost. Photo shows Fresh Herb Yogurt Dip served with baby carrots, broccoli, sugar snap peas and cherry tomatoes, but you can certainly add almost any fresh vegetable to the mix, such as cauliflower, baby corn, red and/or green bell peppers, jicama, cucumbers and more.
Yogurt dips can be made as dips for vegetables or fruits - it's just a matter of the added ingredients. This yogurt dip recipe is the perfect accompaniment to fresh vegetables. It includes lemon juice and lemon zest which add a distinctive freshness to its flavor. The lemon zest offers fairly potent lemon flavor, so if you enjoy a more mild lemon flavor, you can simply omit the lemon zest or reduce it to your own liking.
Ingredients
1 cup plain Greek yogurt
1 tablespoon plus 1 teaspoon lemon juice
1 1/2 teaspoons honey
2 teaspoons Dijon mustard
2 teaspoons chopped fresh parsley
2 teaspoons chopped fresh dill
1/2 teaspoon lemon zest (optional)
salt and pepper to taste
Directions
Whisk together all ingredients in a small mixing bowl until blended. Refrigerate until ready to serve.
Other recipes you might like: