Guacamole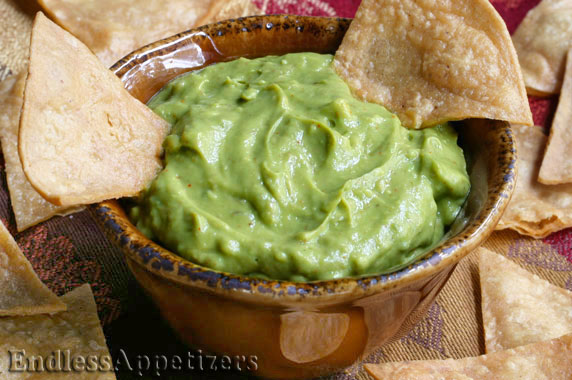 Yield:
About 2 cups or 8-12 servings
Tips:
Guacamole can be creamy or chunky (see recipe). For added flavor, add chopped tomatoes and chopped cilantro.
Suggestion:
Delicious with homemade tortilla chips or pre-packaged tortilla chips, corn or pita chips and/or crackers.
Whether served as a dip, a garnish or a spread, Guacamole is always a hit, and a delicious way to get a healthy dose of vitamins, minerals and omega 3's. Making guacamole is a great way to use up those avocados that have been sitting on the counter or in the refrigerator
a few too many days and have become a little too soft.
Like most guacamole recipes, this guacamole recipe is a quick and easy one, using ripened avocados, seasonings, sour cream and some freshly squeezed lemon juice to give it a little tartness and to help prevent browning. You can make this guacamole creamy or chunky - it's simply a matter of which blending method you use (see recipe). The photo above shows guacamole made creamy style, served with some freshly homemade tortilla chips, but you can also serve it with any pre-packaged tortilla, corn, pita or other chips and/or crackers (or use your imagination!). Aside from being a delicious dip, Guacamole can serve as a wonderful compliment to a variety of dishes, including (but not limited to!) taquitos, tacos, tostadas, enchiladas and other Mexican dishes, as well as hamburgers, baked potatoes, soups, omelets and the list goes on!
Ingredients
4 ripe avocados
1/2 teaspoon lemon juice
1/4 teaspoon onion powder
2 tablespoons sour cream
1/4 teaspoon garlic salt
1 1/2 teaspoons chili powder
3 dashes Tabasco
1/4 teaspoon ground black pepper
Directions
Remove skins from avocados and place avocado meat in a medium bowl. Add all other ingredients and smash slightly with a fork to break up the avocados. For a creamy texture, blend with an electric hand mixer until smooth. For a chunky texture, smash with a fork until you reach desired texture. Serve immediately.

Store any leftovers in the refrigerator. When ready to serve again later, if any browning has occurred on the top of the guacamole, simply scoop off the thin layer of browned guacamole, then stir and serve.
Other recipes you might like: