Chili Con Queso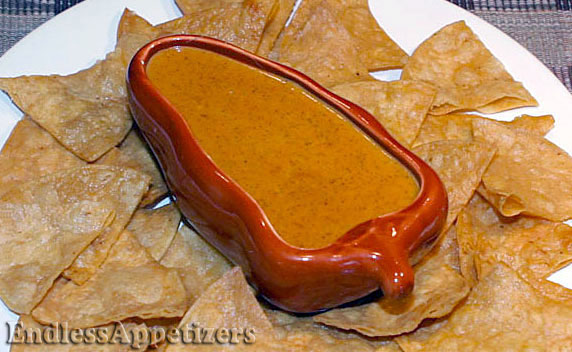 Cook Time:
About 10 minutes
Tips:
To thin dip, add a couple tablespoons of milk and stir in, then return to saucepan or place in microwave to reheat. Continue process until you achieve desired consistency.
Suggestion:
Serve with tortilla chips or raw vegetables.
Chili Con Queso is a tasty cheese and chili-flavored dip that is served warm and is traditionally served with tortilla chips (especially great with homemade tortilla chips as shown in photo). This dip recipe blends together the flavors of cheese,
chili powder, a small amount of jalapenos and other spices, resulting in a very lively dip with just the right amount of spice. It's also a cinch to prepare.
Chili Con Queso also goes great with with French fries (if you've ever tried chili fries, then you know how well these flavors go together!) and fresh raw vegetables. It's also a great way to spice up a baked potato, simply by drizzling some of this dip over the top, and maybe topping it off with some chopped chives and/or bacon bits (and slices of pickled jalapenos if you want to spice it up a tad). This is a great dip to serve at parties, holidays, family get-togethers or any type of event. With a little imagination, one can find plenty of other uses for this tasty dip! For added flair, when serving with tortilla chips, place some sides of diced tomatoes, diced green onions, pickled jalapeno slices and/or sour cream nearby.
Ingredients
4 tablespoons flour
4 tablespoons (1/2 stick) butter
1 tablespoon ketchup
1/2 teaspoon dry mustard
1 teaspoon paprika
1 tablespoon chili powder
1 tablespoon cumin
2 large garlic cloves, minced
1 teaspoon juice from canned pickled jalapenos
2 cups milk
12 oz. Velveeta cheese
1/2 to 1 jalapeno pepper, mashed
Directions
In a medium saucepan over low heat, add butter and flour. Stir until butter has melted and mixture is blended and smooth. Remove from heat and add ketchup, dry mustard, paprika, chili powder, cumin, garlic and jalapeno juice. Stir to blend. Add milk and return to a low-medium heat, stirring constantly until thick. Cut cheese into chunks and add to saucepan with mashed jalapeno. Continue to heat on low-medium, stirring constantly until cheese is melted and mixture is smooth.

Serve warm with tortilla chips, fresh raw vegetables or french fries.
Other recipes you might like: