Chili Con Queso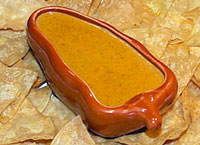 Cook Time:
About 10 minutes
Tips:
To thin dip, add a couple tablespoons of milk and stir in, then return to saucepan or place in microwave to reheat. Continue process until you achieve desired consistency.
Suggestion:
Serve with tortilla chips.
Ingredients
4 tablespoons flour
4 tablespoons (1/2 stick) butter
1 tablespoon ketchup
1/2 teaspoon dry mustard
1 teaspoon paprika
1 tablespoon chili powder
1 tablespoon cumin
2 large garlic cloves, minced
1 teaspoon juice from canned pickled jalapenos
2 cups milk
12 oz. Velveeta cheese
1/2 to 1 jalapeno pepper, mashed
Directions
In a medium saucepan over low heat, add butter and flour. Stir until butter has melted and mixture is blended and smooth.
Remove from heat and add ketchup, dry mustard, paprika, chili powder, cumin, garlic and jalapeno juice. Stir to blend. Add milk and return to a low-medium heat, stirring constantly until thick. Cut cheese into chunks and add to saucepan with mashed jalapeno. Continue to heat on low-medium, stirring constantly until cheese is melted and mixture is smooth.

Serve warm with tortilla chips, fresh raw vegetables or french fries.