Festive Nachos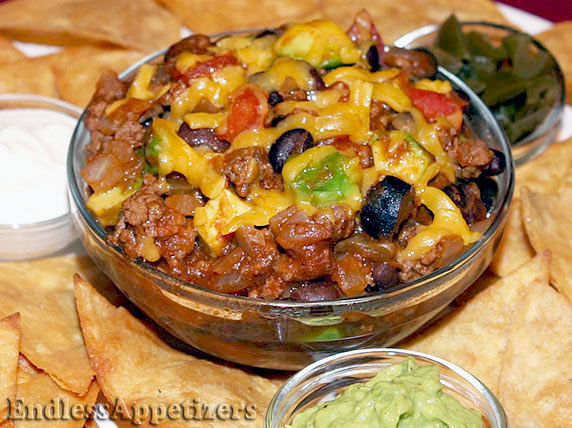 Cook Time:
About 10 minutes
Tips:
For spicy nachos, add chopped pickled or fresh jalapenos and a few drops of hot pepper sauce.
Suggestion:
Serve with sides of guacamole, sour cream and/or chopped pickled jalapenos.
Nachos are loved by all ages, can be prepared in a variety of ways with a variety of ingredients, and can be served as an appetizer or main course. This Festive Nachos recipe combines tender lean ground beef, salsa, black beans, avocado and tomato chunks, ripe olives and a hint of chili powder. You can serve this dish with tortilla chips
for dipping and/or warm flour tortillas for filling. It only takes minutes to cook and a short time to prepare, so it's a great meal or snack to make on a moment's notice.
Festive Nachos can be served all together on one large platter or arranged on individual plates. Whether you simply pour the meat mixture on a large platter and arrange tortilla chips in a circle around the meat, place the tortilla chips on a platter and pour the meat on top of the chips, or use serving bowls as shown in the above photo, this dish will be a hit!
If you prefer spicy nachos, you can simply use a spicy salsa or add a few chopped fresh or pickled jalapenos as well as a few splashes of hot sauce such as Tabasco to the meat mixture for added kick. If you are serving Festive Nachos for a mixed crowd, however, you might want to keep the recipe mild and serve the spicy ingredients on the side.
Ingredients
1 lb. ground beef
1 medium onion, diced
2 cups red salsa (use your favorite, paying attention to spice levels)
1 15-oz. can pinto or black beans, rinsed and drained
1 teaspoon chili powder
1 large tomato, chopped
1 large or 2 small ripe avocadoes, seeded and diced
1 cup sliced ripe olives
1 cup shredded cheddar cheese
1/2 to 1 cup sour cream (as desired)
packaged prepared tortilla chips or homemade tortilla chips
warmed flour tortillas


Optional toppings: Sour cream, guacamole and chopped pickled or fresh jalapenos
Directions
In a large skillet, brown meat with onion. Drain. Add salsa, beans and chili powder and bring to a boil. Reduce heat and simmer, uncovered, for 5 minutes. Add tomato, avocado and olives and stir, then remove from heat. Quickly sprinkle with cheese, then scoop meat mixture onto a large serving platter (or any other desired serving presentation as described above). Serve with packaged tortilla chips, homemade tortilla chips and/or warmed flour tortillas, and sides of sour cream, guacamole and/or chopped pickled or fresh jalapenos.
Other recipes you might like: