Zesty Ranch Dip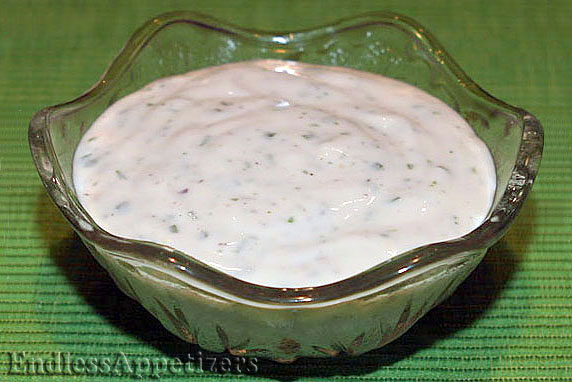 Tips:
Will stay fresh stored in the refrigerator for 2-3 weeks or up to the expiration date shown on your buttermilk container.
Suggestion:
Delicious served with green salads, coleslaws or baked potatoes, or as a dip for fresh vegetables, buffalo wings, chicken strips or nuggets, fried potato skins and more.
This zesty homemade ranch dressing recipe features some of the traditional ingredients found in many ranch dressing recipes, such as buttermilk, mayonnaise and sour cream, along with
some seasoning and minced chives. What gives this ranch dressing recipe its distinctive "zest" is the addition of prepared horseradish and wine (or rice) vinegar. The prepared horseradish does not at all overpower this salad dressing - rather, it enhances it and gives it a lively punch!
This Zesty Ranch Dressing recipe can compliment a large variety of foods, including green leafy salads and coleslaw recipes or can be used as a dip for fresh vegetables, buffalo wings, chicken nuggets, baked potatoes, fried potato skins and more.
When purchasing buttermilk and sour cream,try to reach for the best expiration dates, because this will enable your ranch salad dressing to stay fresh in the the refrigerator up to (or a few days past) the earliest expiration date shown on either container
Ingredients
1/2 cup buttermilk
1/4 cup mayonnaise
1/4 cup sour cream
1 tablespoon prepared horseradish
2 tablespoons wine or rice vinegar
1 tablespoon sugar
1 tablespoon minced fresh chives
1/8 teaspoon pepper
1/4 teaspoon salt
Directions
In a small mixing bowl, whisk together all ingredients. Use immediately or cover and store in refrigerator for 2-3 weeks (or until the earliest expiration date on your buttermilk or sour cream container) until ready to serve.
Other recipes you might like: