Chocolate Covered Grapes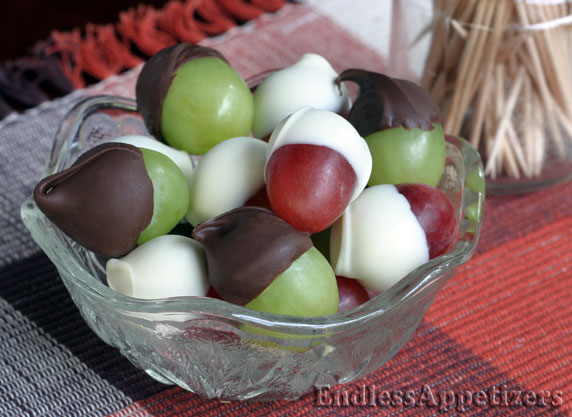 Cook Time:
About 5 minutes for melting chocolate.
Tips:
Small grapes can be used as well, but should be kept on the bunch and dipped all together rather than separately, then served as a bunch for guests to break off on their own.
Suggestion:
Perfect served as kids' snacks, party food or mini desserts.
What kid doesn't love chocolate? When considering healthy snacks for kids, these Chocolate Covered Grapes deserve some bonus points, because dipping grapes into chocolate is a great and creative way to turn a healthy snack into something fun and delicious! When it comes to chocolate covered fruit, though
chocolate covered strawberries
may be the most popularly recognized, there are actually plenty of other fruits that taste fabulous dipped in chocolate. Chocolate covered fruit is so delicious, that chocolate covered fruit delivery services seem to be doing quite well in sales.
When looking for healthy snacks for kids or party food ideas Fruit appetizer recipes are wonderful served as party appetizers and can be served as mini desserts for parties as well. Fruit appetizers are also usually very easy to make, as is true with these Chocolate Covered Grapes. Whether you choose to serve these Chocolate Covered Grapes as a party food or a light fun and healthy dessert (well, they're a lot healthier than plenty of other desserts, especially if you opt to go with a dark chocolate with a higher cacao content!), you might want to give this easy appetizer recipe a try!
Chocolate Covered Grapes are not only colorful and tasty,they are super easy to make, and you can make plenty in no time! They also store well in the fridge and can be made
in advance. The photo above shows these Chocolate Covered Grapes in both dark chocolate and white chocolate, and the grapes have only been one-half covered. The advantage of not covering the entire grape is that it allows the vibrant colors of the grapes to show, giving a more colorful presentation to your table, as well as giving your guests a choice of which type of grape they'd like to try. To serve these grapes as individual finger food snacks, it's best to use large, firm grapes, because they're the easiest to handle when dipping into the chocolate. Large grapes also make the perfect pop-in-your-mouth size snack. Large grapes can be served with toothpicks on the side, or people can simply pick them up with their hands, if you prefer. Alternatively, smaller grapes can be used with this recipe as well, and entire bunches of grapes (rinsed and patted dry first) can be dipped into and rolled around in the chocolate to cover the entire bunch. The entire bunch of grapes can then be placed on a plate or platter and your guests can take the grapes from the bunch. Whether you prefer to use large grapes and serve them as individual bite-size appetizers or use smaller grapes and dip the entire bunch into the chocolate, it's important to remember to choose the firmest grapes you can find.
Once you've dipped the grapes into the chocolate and set them on a parchment or waxed paper lined baking sheet to harden, simply place them in the refrigerator until the chocolate has become firm. Once the chocolate is firm, you can serve them cold or allow them to sit at room temperature for 20 minutes or so to let the chocolate soften a bit. Alternatively, you can serve them cold, and they will adjust to room temperature as they sit on the table.
Ingredients
8 oz. dark chocolate (semi-sweet chocolate chips or in bar form)
8 oz. white chocolate (morsels or in bar form)
2 lbs. large red seedless grapes (or small if dipping entire bunch all at once)
2 lbs. large green grapes (or small if dipping entire bunch all at once)
Directions
Green Grapes
Remove the largest and firmest green grapes from the bunch and set aside.
Line baking sheets or cookie sheets with parchment paper or waxed paper. Melt dark chocolate, either in a double boiler over simmering water (making sure water does not touch top pan), or in a microwave safe bowl in microwave, heating on high at 30 second intervals, stirring after each heating until melted. Dip one green grape at a time, stem side down, into chocolate, turning to evenly coat 1/2 of each grape. Once coated, rest grapes on their sides on the lined baking sheets.
Repeat process with white chocolate and red grapes.
Place chocolate covered grapes in refrigerator to chill until the chocolate becomes firm, then transfer to a serving bowl or tray. Keep in refrigerator until ready to serve.
Other recipes you might like: