Norwegian Meatballs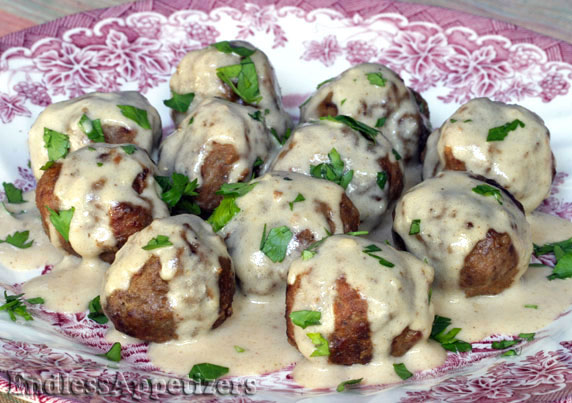 Yield:
About 2 dozen meatballs
Cook Time:
20 minutes for browning meatballs / 2-9 hours in slow cooker, depending on cooking temperature.
Tips:
Meatballs may be browned in broiler or in skillet. Maybe also be served as a main course alone or over rice or pasta.
Norwegian Meatballs (also referred to as Kjøttboller in Norwegian cuisine) feature browned seasoned meatballs that slow-cook in a beef broth and the flavorful juices produced by the meatballs. When the meatballs are ready to serve, heavy cream is combined with the broth, creating a creamy, savory sauce. This sauce is briefly heated until thickened, then poured over the meatballs, which are then topped with chopped fresh parsley.
These tender and flavorful meatballs are made with a combination of lean ground beef and lean ground pork (or veal, if desired), mashed potatoes, milk, bread crumbs, an egg and a unique collection of spices and herbs.
This meatball recipe is designed for cooking in a slow cooker (crock pot), which allows the flavors to mingle slowly for hours, giving these meatballs tenderness and full flavor. However, these meatballs can also easily be prepared using a large skillet (see recipe for details). To make Norwegian Meatballs as a main course, form the meatballs into 1 1/2-inch balls and serve alone or over a bed of any type of rice or pasta. When making these meatballs as appetizers, simply form into slightly smaller bite-size balls (about 1 inch in diameter), then completely immerse in sauce and provide a serving spoon or toothpicks for guests to help themselves. Whether served as a main course or appetizer, this is a dish all ages will enjoy, and makes great easy left-overs that heat up in the microwave in a minute or two!
Ingredients
1 1/2 lbs. extra-lean ground beef
1/2 lb. extra-lean ground pork (or veal)
1 egg
1 cup mashed potatoes
1/2 cup dry bread crumbs
1/2 cup milk
2 teaspoons seasoned salt
1/4 teaspoon ground cloves
1/4 teaspoon allspice
1/4 teaspoon ground ginger
1/2 teaspoon black pepper
1/4 teaspoon nutmeg
1/2 teaspoon brown sugar (firmly packed)
1/2 cup flour
1 cup beef broth (canned or made with boullion cube and water)
1/2 cup heavy cream
1/2 cup chopped parsley
Directions
In a large mixing bowl, combine all ingredients
except
flour, beef broth, heavy cream and chopped parsley. Blend well with hands or utensil and shape into balls (1 1/2-inch for main course servings and 1 inch for appetizer servings). Roll lightly in flour, then place on rack of broiler pan in preheated 400° oven for 20 minutes. (Alternatively, you can brown meatballs in a skillet (cooking 1/2 of the meatballs at a time) with 1-2 tablespoons oil over medium heat until lightly browned on all surfaces - about 10 minutes).
Slow Cooker Method
Once meatballs are browned, place in slow-cooker. Pour beef broth over meatballs and cover and cook on low setting for 7-9 hours. (Alternatively, cook on medium setting for 4-5 hours, or on high setting for 2-3 hours.
Just before serving, carefully transfer meatballs to a serving platter and cover with aluminum foil to keep warm (while leaving broth in slow cooker). Stir heavy cream into broth in slow-cookier and turn heat up to high. Mix until smooth and heated through (about 1-3 minutes). Remove foil from meatballs and pour sauce over meatballs. Garnish with sprinkles of chopped parsley.
Skillet Method
After browning meatballs, add beef broth to skillet and bring to a boil. Immediately reduce heat to a low simmer and cover. Cook for 30-60 minutes. Transfer meatballs (while leaving broth in skillet) to a bowl or dish and cover with aluminum foil to keep warm. Stir heavy cream into broth in skillet and turn up heat to medium to create a constant gentle boil. Stir until smooth and heated through (about 1-3 minutes). Remove foil from meatballs and pour sauce over meatballs. Garnish with sprinkles with chopped parsley.
Other recipes you might like: