Meatballs with Cherry Sauce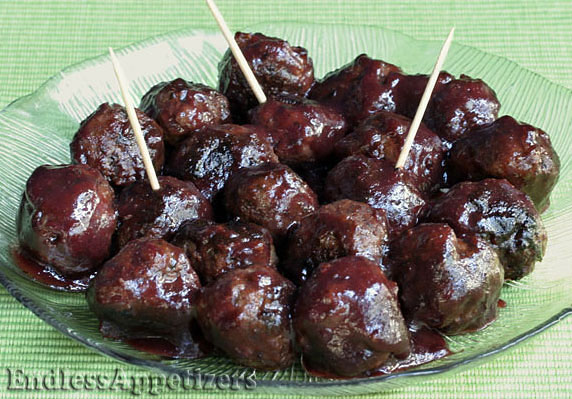 Yield:
About 7 dozen meatballs
Tips:
May be made in advance and reheated on stove. Best served with
toothpicks
or other food picks for easy taking.
Suggestion:
Serve with toothpicks for easy taking, or a main course alone or over rice or pasta. Also delicious served as a main course over rice or pasta.
Meatballs with Cherry Sauce can brighten up any party, holiday or other event
with their unique and festive flavor. This meatball recipe features cocktail-sized meatballs made with lean ground beef and bulk pork sausage combined with fresh parsley, fine bread crumbs, milk, egg and diced onion. Once browned, the meatballs are stirred into a divine dark cherry sauce made from pureed canned pitted dark cherries, ground ginger, cloves, cinnamon, freshly squeezed lemon juice and vinegar, giving the sauce for these meatballs a tangy and mildly sweet flavor. In addition to making perfect appetizers, these meatballs can be served as a main course on their own or served over rice or pasta. The sauce for these meatballs will likely be like no other you have ever tasted, and will pleasantly surprise you!
Ingredients
Meatballs

1 1/2 lbs. lean ground beef
1/2 lb. bulk pork sausage
2 eggs, beaten
1/4 cup milk
1/2 cup fine bread crumbs
1/4 cup finely chopped onion
1/2 cup minced parsley
1 1/2 teaspoons salt
1/2 teaspoon pepper
1 tablespoon oil



Cherry Sauce

1 17-oz. can or jar of pitted dark sweet cherries, juice reserved
1 tablespoon cornstarch
2 teaspoons sugar
1/4 teaspoon ground ginger
1/4 teaspoon ground cloves
1/4 teaspoon cinnamon
1 tablespoon vinegar
1 tablespoon lemon juice
Directions
Meatballs
Add to a large mixing bowl beef, sausage, eggs, milk, bread crumbs, onion, parsley, salt and pepper and mix until thoroughly blended (Note: Hands work best for mixing. If you prefer, you can wear disposal gloves to keep your hands clean.)
Shape meat mixture into 1-inch balls and place on a plate or baking sheet near stove. Heat oil over medium-high heat in a large skillet, then add one-half of the meatballs and cook until browned on all sides in oil (about 10 minutes). Transfer cooked meatballs to a large bowl and cover with aluminum foil to keep warm. Add remaining meatballs to skillet and repeat process.
Cherry Sauce
Pour cherries into blender and puree until smooth. In a large saucepan, combine cornstarch, sugar, ginger, cloves, cinnamon and whisk to combine. Add pureed cherries, vinegar and lemon juice and whisk again to thoroughly blend. Cook and stir over low heat for 2-3 minutes, stirring frequently.
Add browned meatballs to sauce and heat again for 1-2 minutes, gently stirring meatballs to cover with sauce.
Serve in a bowl or platter with toothpicks for individual taking.
Other recipes you might like: