Sweet and Sour Meatballs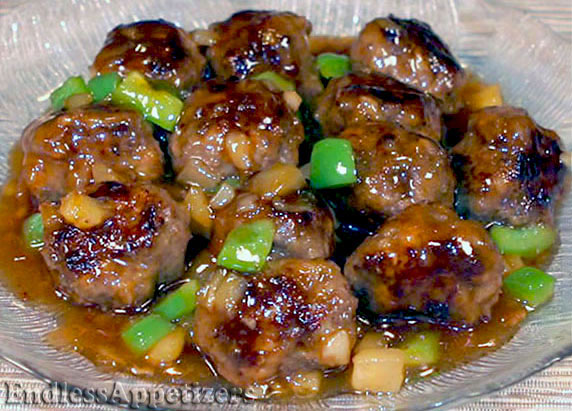 Yield:
About 30 meatballs
Cook Time:
10-15 meatballs
Tips:
May be made a day or two in advance, then reheated just before serving.
Suggestion:
Serve as cocktail party appetizers, as kids' party food, as Hawaiian party food at a Hawaiian themed party, or serve as a main course over rice.
Sweet and Sour Meatballs (also often referred Hawaiian Meatballs or Polynesian Meatballs) are wonderful served as cocktail party appetizers, as Hawaiian party food for a Hawaiian themed party, or as kids' party food. These Hawaiian meatballs also taste great served as a main course over rice!
Sweet and Sour Meatballs are made with a mixture of lean ground beef, rolled oats, diced water chestnuts, egg, milk and spices and are browned in the skillet in just minutes. (Note: If you'd prefer a more
healthy meatball recipe with lighter flavor, these meatballs can be made with ground turkey or ground chicken as well.) A tangy and delicious Sweet and Sour Sauce (or Polynesian sauce) is then poured over the meatballs, giving them the final touch of that very tasty and recognizable Polynesian flavor. The Sweet and Sour Sauce is made with a combination of sweet and tangy ingredients, with the added flavors and textures of crushed pineapple and diced green bell peppers that make this meatball recipe as colorful as it is tasty! Pineapples with their juice and brown sugar contribute to the sweetness of this sauce, while the salty and tangy flavors of soy and vinegar counter that sweetness, giving the sauce a splendid balance - hence, "sweet and sour!"
Sweet and Sour Meatballs are easy to make and can be put together in a short time. To make this meatball recipe even more convenient, the meatballs can be made a day or two in advance and reheated when ready to serve. You can serve Polynesian Meatballs on a platter or bowl with a serving spoon, or serve with
toothpicks
for easy taking.
Ingredients
Meatballs

1 1/2 lbs. lean ground beef
3/4 cup rolled oats (quick cooking or 5-minute)
1 5-oz. can water chestnuts, drained and diced
1/2 teaspoon onion powder
1/2 teaspoon garlic salt
1/2 teaspoon salt
1 tablespoon soy sauce
dash hot red pepper sauce, such as Tabasco
1 egg
1/2 cup milk
2 teaspoons butter
2 teaspoons olive oil


Polynesian Sauce (recipe follows)



Sweet and Sour Sauce

1 8 oz. can crushed pineapple in syrup
1 cup packed brown sugar
2 tablespoons cornstarch
1 cup beef stock
1/2 cup white or apple cider vinegar
2 teaspoons soy sauce
2/3 cup diced green bell pepper
Directions
Meatballs
In a large mixing bowl, combine ground beef, oatmeal, water chestnuts, onion powder, garlic salt, salt, soy sauce, hot pepper sauce, egg and milk. Mix with hands or fork (hands work best) until thorough combined.
Shape into 1-inch (about 1 tablespoon each) balls, and set on a tray or plate. Heat a skillet (preferably nonstick) and add butter and oil. Heat until butter and oil are hot, then add meatballs. Cook until surfaces of meatballs are evenly browned, turning and moving around meatballs as necessary. Drain fat from skillet, then add Polynesian Sauce to meatballs. Gently stir to thoroughly combine meatballs with sauce.
Spoon into a serving tray and serve with a large spoon or stick each meatball with a tooth pick.
Sweet and Sour Sauce
Drain pineapple, reserving syrup. Set syrup and pineapple aside. In a small saucepan, add sugar and cornstarch and stir to combine. Add pineapple syrup, beef stock, vinegar and soy sauce. Bring to a boil, stirring constantly, until thickened and clear. Boil for 1 minute, then turn off heat and add green pepper and pineapple.
Other recipes you might like: