Porcupine Meatballs in Chili Sauce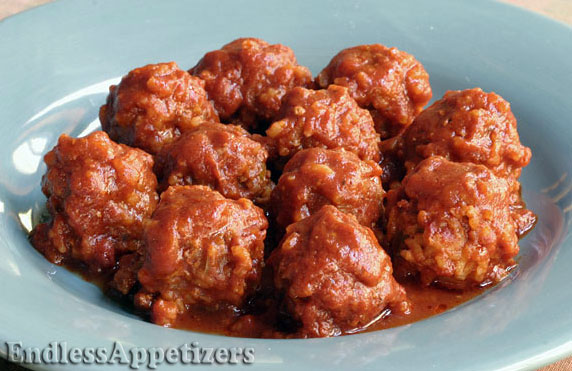 Yield:
About 24 2-inch meatballs
Tips:
Corn syrup may be substituted for molasses.
Suggestion:
To serve as an appetizer, see Porcupine Meatballs in Chili Sauce.
Porcupine Meatballs in Chili Sauce are great served as a main course (as shown in photo above) or served as appetizers at parties & events - the only difference is in the size of the meatballs. (For specific instructions on how to make meatballs as appetizers, see the Porcupine
This tasty meatball recipe is made with a mixture of lean ground beef, rice (any type of rice can be used), diced celery, onions, green bell pepper and egg, along with the perfect combination of a few seasonings. The richly red sauce is amazing in and of itself, made with a generous amount of tomato juice seasoned with chili powder, cumin, molasses and garlic that beautifully thickens as it simmers with the meatballs. The meatballs and sauce simmer together, creating meatballs so tender they practically melt in your mouth. For added convenience, the meatballs and sauce can be made a day or two in advance and stored (separately) in the refrigerator until you're ready to cook them (chilling them in the fridge also helps the meatballs hold their shape). When you're ready to cook, simply pour the sauce and meatballs into a skillet and set your timer for 20 minutes!
Ingredients
Chili Sauce

2 1/2 teaspoons chili powder
1 1/2 teaspoons garlic salt
2 teaspoons molasses
1/2 teaspoon ground cumin
5 cups tomato juice



Meatballs

1 lb. lean ground beef
1 cup rice (any type)
1/2 cup diced onion
1/2 cup diced green bell pepper
1/2 cup diced celery
1 egg
2 teaspoons prepared yellow mustard
2 teaspoons salt
1/4 teaspoon ground black pepper
Directions
Chili Sauce
In a large skillet, combine chili powder, garlic salt, molasses, cumin, oregano and tomato juice. Stir until blended. Set aside on stovetop.
Meatballs
In a large mixing bowl, combine ground beef, rice, onion, green pepper, celery, egg, mustard, salt and pepper. Blend well (mixing with hands works best). Shape into 2-inch-diameter balls.
Place meatballs in sauce. Bring liquid to a boil, then reduce heat and cover. Simmer for 30 minutes or until meatballs are cooked through. Turn meatballs in sauce once during cooking. To test doneness, cut into one meatball. If there is no pink left, meatballs are done. Serve.
Other recipes you might like: