Spicy Apple-Glazed Meatballs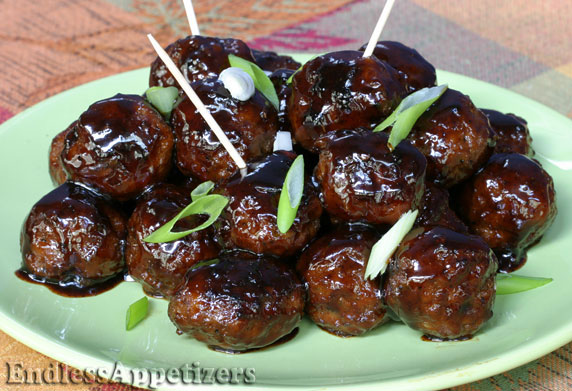 Yield:
About 35 meatballs
Tips:
If desired, sprinkle sliced green onions over meatballs as a garnish.
Suggestion:
Delicious as an appetizer or as a main course with rice or pasta.
Whether made as appetizers or a main course, there just can't ever be enough meatball recipes. There's something so satisfying about being able to pop a bite-size ball of seasoned meat in your mouth that makes it
the perfect flavor experience - and that flavor factor is stepped up another notch when the meatballs are coated with a fabulous tasting sauce! These Spicy Apple-Glazed Meatballs are seasoned with plenty of garlic and the perfect amount of cayenne pepper to give this meatball recipe a "kick," and are nicely held together with a couple slices of bread that have soaked in an egg and milk mixture. Once these tasty meatballs are browned in the skillet, a fabulous sauce flavored with apple juice, soy sauce, brown sugar and some ground ginger is quickly whipped up on the stove, then combined with the meatballs, giving them full and lively flavor and a beautiful glisten. To add more color, flavor and texture, sliced green onions sprinkled over the top make the perfect garnish. These meatballs make perfect toothpick appetizers or snacks; or, if you love them as much as I do, you wouldn't mind having a few of these little guys over a bed of rice or pasta as a main dish!
Ingredients
Meatballs



1 egg
1/4 cup milk
2 slices whole wheat or white bread
1 lb. lean ground beef
4 cloves garlic, minced
1/2 teaspoon freshly ground black pepper
1/4 tesapoon salt
1/4 teaspoon cayenne pepper
1 tablespoon olive or other oil



Apple Glaze

1 cup apple juice
1/4 cup reduced-sodium soy sauce
3 tablespoons packed brown sugar
1 1/2 teaspoon cornstarch
1 teaspoon ground ginger
1/4 teaspoon cayenne pepper
6 green onions, sliced
Directions
Meatballs
In a large mixing bowl, whisk together egg and milk. Add bread and let stand for 10 minutes, or just until bread has softened. Add ground beef, garlic, black pepper, salt and cayenne pepper. Mix thoroughly with hands or wooden spoon. Shape beef mixture into about 48 1-inch balls.
In a large skillet, heat oil over medium heat. Cook one-half of the meatballs (or as many as will fit comfortably in the skillet), turning occasionally until the outsides are browned and there is no pink remaining inside (about 6 minutes per batch of meatballs). (Tip: To test doneness, simply poke one meatball with a pointed knife and open enough to see interior). Transfer cooked meatballs to a dish and cover with aluminum foil to keep warm. Drain fat from skillet, then wipe skillet with a paper towel.
Apple Glaze
In a medium mixing bowl, combine juice, soy sauce, brown sugar, cornstarch, ginger and cayenne pepper. In the skillet you used to cook the meatballs, cook and stir sauce over medium-high heat (at a full boil) until it becomes thickened and bubbly. Cook and stir for an additional 2 minutes, then return meatballs to skillet to glaze and heat through.
Transfer meatballs and sauce to a serving dish and top with chopped green onions if desired.
Other recipes you might like: