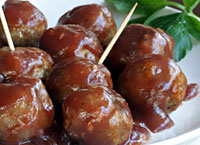 Yield:
About 58 meatballs
Cook Time:
About 15 minutes when baked (frying meatballs in a skillet may take a little longer if fried in separate batches).
Tips:
Lean ground beef, ground turkey or ground chicken may be used instead of ground pork, if desired.
Suggestion:
Delicious served as an appetizer. Great as a Thanksgiving appetizer when made with ground turkey or ground chicken.
Meatballs
In a medium
mixing bowl
, combine the pork (or other ground meat), breadcrumbs, milk, eggs, allspice (or pumpkin pie spice), salt, fennel, garlic, a dash of black pepper, and the chopped chili, if using.
Bake Method
Preheat oven to 375ºF. Line a baking sheet with parchment paper. Form meat mixture into 1-inch meatballs and place on baking sheet. Bake meatballs until cooked through and lightly browned (12-15 minutes).
Fry Method
Heat about 2 tablespoons of oil in a large skillet (preferably nonstick), and fry meatballs until cooked through, rolling meatballs around occasionally to brown all sides. You may need to fry meatballs in batches, depending on the size of your skillet.)
Cranberry Glaze
While the meatballs are cooking, prepare Cranberry Glaze. (Note: If using whole cranberry sauce, blend in a blender or food processor first.) Pour cranberry sauce into a large skillet, Dutch oven or large soup pot. Stir in the vinegar, orange juice, brown sugar, mustard, ginger, hot sauce, salt and black pepper. Heat mixture over medium heat, stirring constantly, until well-blended. Add meatballs and heat for 1-2 minutes, stirring to coat. Serve with
toothpicks
on the side.