Meatball Appetizers
What's there not to love about meatballs?! They can be made using a
variety of meats (ground beef and ground pork are most commonly used, though meatballs can also be made with chicken, turkey, lamb, fish or any other meat). From there, all kinds of seasonings and herbs can be added into the meat mixture, giving the meatballs distinctly different flavors and textures. If that's not enough, meatballs can be served with all sorts of dipping sauces and/or coated with wonderful sauces that make them ooze with flavor and become dangerously addicting. Another beautiful thing about meatballs s that they not only serve as perfect little appetizers for any type of party, holiday or event, they make great quick snacks that all ages will love and devour, and in most cases can be served as a main course over rice or pasta.
Meatball Appetizer Recipes ▼
Sweet and Sour Meatballs
are wonderful served as an appetizer for any event, or as a main course over rice. These
Hawaiian meatballs
are made with a mixture of lean ground beef, rolled oats, diced water chestnuts, egg, milk and spices and are browned in the skillet in just minutes. A sweet and tart Polynesian Sauce is then poured over these flavorful meatballs, giving them the final touch of that recognizable Polynesian flavor.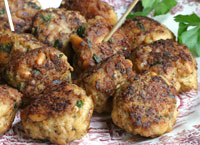 This
turkey meatball recipe
is delicious served as a main course with pasta and some
Marinara
poured over the top, but can also be made as a healthy appetizer for parties simply by reducing their size. These meatballs can be made with ground turkey, ground turkey breast, ground beef or ground pork, if desired. Thanksgiving holiday turkey leftovers can also be used to make these meatballs with a little help from a food processor!