Marinara Sauce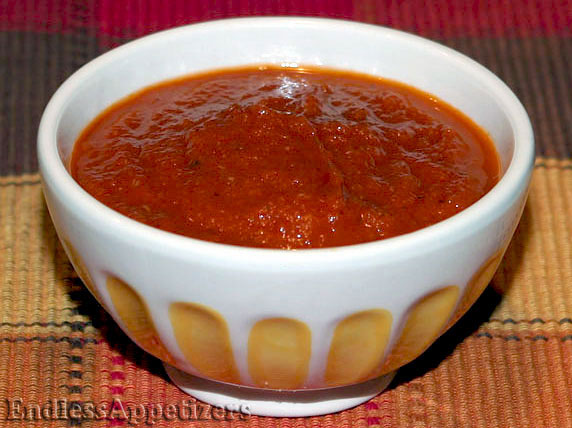 Tips:
Sauce can be placed in freezer for future use.
Marinara is a sauce traditionally made from fresh tomatoes and/or processed tomato products (such as tomato sauce, crushed tomatoes, tomato paste, etc.),
herbs and spices, and is quite easy to make. Marinara Sauce can be used for a large variety of Italian dishes, such as spaghetti and lasagna and a wide variety of other pasta dishes. It also is wonderful served as a dipping sauce for
Cheese and Garlic Breadsticks
, pizza crust, breaded fried cheese sticks, breaded fried zucchini sticks,
calzones
and more!
This Marinara Sauce recipe is conventient as it is delicious, as it is made using three canned tomato products (crushed tomatoes, tomato sauce and tomato paste), along with diced onion, minced garlic, and an assortment of dried Italian herbs and seasonings. Leftovers can be stored in the refrigerator for a week or so, or frozen for future use.
Ingredients
1 tablespoon olive oil
1 cup diced onion
2-3 cloves garlic, minced
1/4 teaspoon red pepper flakes
1 28-oz. can crushed tomatoes
1 28-oz. can tomato sauce
1/2 of 6-oz. can tomato paste
1/2 teaspoon dried basil leaves
1/4 teaspoon dried oregano leaves
1/4 teaspoon salt
1/4 teaspoon pepper
Directions
Heat oil in large saucepan. Add onions and cook on low-medium heat for about 2 minutes, then add garlic and red pepper flakes and cook for another 2 minutes or so, or until onions are tender. Add all other sauce ingredients and stir until well mixed. Bring to a boil, then reduce heat to low. Partially cover and cook for 30 minutes to 1 hour. Serve. If you prefer a smooth consistency, puree in blender for about 30 seconds.
Other recipes you might like: