Marinara Sauce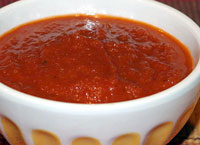 Tips:
Sauce can be placed in freezer for future use.
Ingredients
1 tablespoon olive oil
1 cup diced onion
2-3 cloves garlic, minced
1/4 teaspoon red pepper flakes
1 28-oz. can crushed tomatoes
1 28-oz. can tomato sauce
1/2 of 6-oz. can tomato paste
1/2 teaspoon dried basil leaves
1/4 teaspoon dried oregano leaves
1/4 teaspoon salt
1/4 teaspoon pepper
Directions
Heat oil in large saucepan. Add onions and cook on low-medium heat for about 2 minutes, then add garlic and red pepper flakes and cook for another 2 minutes or so, or until
onions are tender. Add all other sauce ingredients and stir until well mixed. Bring to a boil, then reduce heat to low. Partially cover and cook for 30 minutes to 1 hour. Serve. If you prefer a smooth consistency, puree in blender for about 30 seconds.