Turkey Meatballs with Pecorino Romano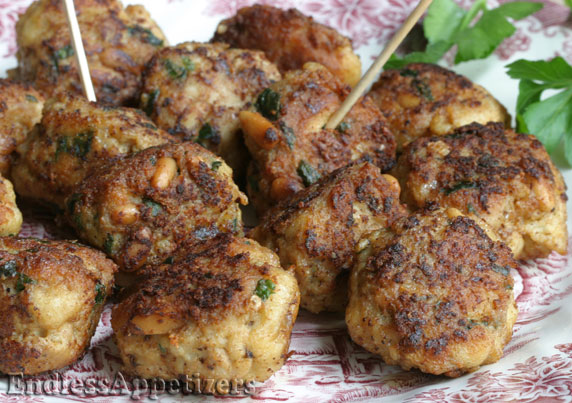 Yield:
30 or more appetizer meatballs
Cook Time:
7-10 minutes per skillet batch
Tips:
Meatballs may be made into small cocktail meatballs or larger main course meatballs (to serve as a main course, see the main course recipe version:
Turkey Meatballs as a Main Course
. Other Romano cheese or Parmesan cheese may be used. Pine nuts may be omitted if preferred, or ground into smaller pieces. Ground turkey, ground turkey breast, ground beef or ground pork may be used. Cooked leftover turkey (such as after Thanksgiving) may be used by grinding up the cooked turkey in a food processor (because the turkey is already cooked, browning time will be reduced).
Suggestion:
Serve alone or with
Marinara Sauce
for dipping. Toothpicks or small forks work well as utensils for serving as party food.
If you're looking for healthy appetizers for parties, this turkey meatball recipe produces delicious cocktail meatballs that taste great on their own, or served with some
Marinara Sauce
on the side for dipping. Just place some
toothpicks
or small forks on the side, and you're good to go! This turkey meatballs recipe is also perfect served around Thanksgiving when turkey is the main theme, and are also perfect served as Chrstimas appetizers. If you're looking for leftover turkey recipes, these meatballs are also a great way to use up some of those holiday turkey leftovers after Thanksgiving. (Note: If using cooked turkey instead of ground turkey, simply process the turkey in a food processor until it's broken up enough to form into meatballs. Also, because the turkey will already be cooked, it won't take as long to brown the meatballs.)
Most of us have made a good share of meatballs in our day, but for those who are wondering how to make homemade meatballs, these homemade meatballs will show you just how easy and fun it is! This turkey meatball recipe
can be made with regular ground turkey or ground turkey breast, depending on your own personal preference. They can also be made with almost any other meat, such as ground chicken, ground beef or ground pork. (The ground turkey simply gives the meatballs a light flavor and a healthy quality.) Aside from the ground turkey, the ingredients for these meatballs include day-old bread cubes, Pecarino Romano, minced garlic, chopped parsley and toasted pine nuts along with some eggs to help bind the ingredients. (Note: The pine nuts can be left out if desired, though they add a nice chewy texture and are fairly tender. Alternatively, the pine nuts can be briefly chopped using a
mini food processor
or
coffee grinder
. If using pine nuts, to toast, simply place the pine nuts on a baking sheet and bake in a 325° oven until lightly browned - about 5 minutes.) Pecarino Romano cheese is similar to Parmigiano Reggiano (Parmesan) cheese, in that it is a firm and salty Italian cheese that beautifully compliments Italian pasta dishes. Pecarino Romano is made with sheep milk (pecora is Italian for "sheep"). Other Romano cheese or grated Parmesan may be used as well, if desired. If making these meatballs as a main course over pasta, be sure to grate some additional fresh Pecarino Romano (or other preferred cheese) over the top!
Whether you decide to make this turkey meatball recipe as a main course with pasta and sauce or as holiday appetizers or healthy appetizers for any occasion, you're in for a very tasty experience!
Ingredients
3 cups day-old bread, cut into 1/2-inch cubes
1 1/4 lbs. ground turkey (chicken or beef may also be used)
3 eggs, lightly beaten
3 garlic cloves, minced
1/4 cup freshly grated Pecorino Romano cheese
1/4 cup finely chopped Italian parsley
1/4 cup pine nuts, toasted
1/2 teaspoon salt
1/2 teaspoon freshly ground black pepper
1/4 cup olive oil
Directions
Place bread cubes in a shallow mixing bowl and add enough water just to cover. Soak the bread cubes in the water for about 5 minutes. Drain water from the bowl and squeeze out excess moisture from bread.

In a large mixing bowl, combine bread, ground turkey, eggs, garlic, grated cheese, parsley, pine nuts, salt and pepper and mix with your hands just until blended. Form the mixture into small meatballs (about 1 to 1 1/4-inches in diameter - meatballs will shrink slightly while cooking).

In a large skillet (preferably nonstick), heat olive oil over high heat until almost smoking. Add meatballs, working in batches as necessary to avoid overcrowing skillet.

Cook meatballs over low-medium to medium heat, turning occasionally until deep golden brown on all surfaces (about 7-10 minutes per batch, depending on size of meatballs). Remove from heat. Serve with pasta and marinara as a main course or alone with toothpicks as meatball appetizers.
Other recipes you might like: