Cocktail Meatballs with Horseradish Sauce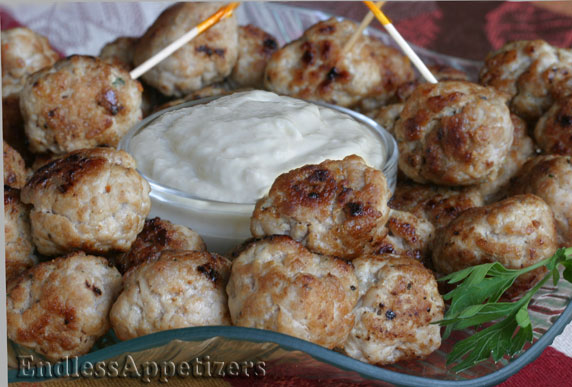 Cook Time:
7-10 minutes per batch of meatballs
Tips:
May be made with ground beef or ground pork. To achieve desired amount of horseradish flavor, start by adding 1/4 cup of prepared horseradish, then continue adding a little more at a time (not exceeding 3/4 cup), until desired horseradish flavor is achieved. May be served in a bowl near meatballs for dipping, or may be combined with meatballs and served in a chafing dish to keep warm.
Cocktail meatball recipes can widely vary, and can include
any combination of spices and flavorings in the meatball mixture. Cocktail meatballs are also often served with sauces, either by immersing the meatballs in a sauce (usually in a chafing dish to keep the meatballs and sauce warm), or by serving the sauce separately in a bowl for dipping. Fortunately, whatever type of party or gathering you are planning, there are plenty of meatball recipes from which to choose!
This cocktail meatball recipe features meatballs that can be made with ground beef or ground pork, or a combination of both. The meatballs are seasoned with a package of Italian dressing mix and
cocktail party meatballs 70 4.48,
Ingredients
Meatballs

3 lbs. ground beef
1 7-oz. package dry Italian dressing mix
2 tablespoons dry bread crumbs
1 egg
1/2 teaspoon salt
oil (for frying)



Horseradish Sauce

2 cups sour cream
1/4-3/4 cup prepared horseradish, depending on preference
2 teaspoons dry mustard
2 teaspoons freshly squeezed lemon juice
1/2 teaspoon salt
Directions
Meatballs
Place ground beef, Italian dressing mix, bread crumbs, egg and salt in a
mixing bowl
and mix until thoroughly blended. Form into 1-inch meatballs, placing meatballs on a tray or large plate near cooking area.
Heat about 2 tablespoons of oil in a large skillet (preferably nonstick) and brown meatballs evenly on all sides in oil, one batch at a time. (Tip: Only put as many meatballs in skillet that will provide enough room to allow meatballs to roll around when shaking skillet.)
Horseradish Sauce
Combine sour cream, horseradish, mustard, lemon juice and salt in a saucepan and heat over medium heat until hot, stirring occasionally. Serve sauce in a bowl as a dipping sauce, or add meatballs to saucepan, then transfer to a chafing dish to keep warm. Serve with toothpicks.
Other recipes you might like: