Three Cheese Crostini with Sun-Dried Tomatoes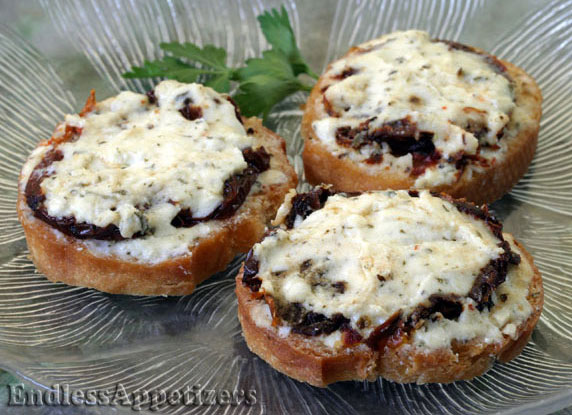 Tips:
Thin, narrow baguettes are recommended to produce bite-size crostini. Whole or julienned sun-dried-tomatoes may be used. Whole sun-dried tomatoes may be chopped into bite-size pieces to fit bread slices, if needed.
Suggestion:
Serve as a healthy appetizer for cocktail parties, holiday parties, summer party food or for snacking anytime!
Whether you're putting together a cocktail party menu, searching for holiday party food or summer party food, browsing for easy appetizers, or are simply exploring some healthy snack ideas, this Three Cheese Crostini with Sun-Dried Tomatoes recipe is definitely worthy of being added to your list! This tasty crostini recipe features thin slices of baguette bread (long, narrow loaves of French bread) that are brushed with olive oil and baked until golden and crispy. The toasted bread slices are then topped with a mixture of three cheeses (ricotta, mozzarella and herbed goat cheese) combined with minced garlic. Sun-dried tomatoes are placed on top of
the cheese mixture, then another layer of cheese mixture is placed on top of the sun-dried tomatoes. The crostini are returned to the oven to briefly bake again, just until the cheese begins to melt.
If you plan to serve these crostini as party appetizers, it's best to buy a long, narrow baguette (2 1/2 inches or less in diameter) - because when sliced, each serving will create perfect bite-size appetizers, making it easier for your guests to eat the crostini in one or two bites. If you're making the crostini as a simple healthy appetizer for smaller crowds or for anytime snacking, but are unable to find the long, narrow baguettes, slightly thicker loaves of bread can be used, which will produce slightly larger crostini servings. Tip: The sun-dried tomatoes are somewhat chewy (which is one of the wonderful things about them!) and sometimes a little challenging to bite apart, so if serving the sun-dried tomatoes on crostini that are larger than bite-size, it's a good idea to cut the sun-dried tomatoes into bite-size pieces.
This easy crostini recipe takes a short time to prepare, and produces an elegant and fun, crispy and delicious healthy snack that pops with fabulous flavor and texture, and is guaranteed to quickly disappear!
Ingredients
Crostini

1 narrow baguette (about 2 1/2 inches or less in diameter), cut into 1/4-inch slices
olive oil
cheese topping (recipe follows)
2 8oz. jars sun-dried tomatoes in oil (whole, chopped or julienned)



Cheese Topping

8 oz. goat cheese with herbs
8 oz. ricotta cheese
8 oz. shredded mozzarella cheese
1 teaspoon chopped garlic
freshly ground white pepper
Directions
Preheat oven to 350° F.
Crostini
While oven is preheating, pour some olive oil into a small bowl. Place the bread slices on a large
baking sheet
. Using a
pastry brush
, lightly coat each slice of bread (only the tops) with olive oil, dipping the pastry brush repeatedly into the oil (and refilling oil) as necessary. Bake for about 10-15 minutes or until outer edges begin to turn golden brown, then remove from oven, leaving crostini in the baking pan. Prepare Cheese Topping (recipe follows).
Spread about 1 teaspoon of the Cheese Topping on each toasted bread slice, then top with a sun-dried tomato (whole, chopped or julienned). Spread another teaspoon of Cheese Topping over sun-dried tomato and bake at 350 ° F just until cheese begins to melt (about 10 minutes).
Cheese Topping
In a medium
mixing bowl
, combine the goat cheese (break up with fingers), ricotta, grated mozzarella, minced garlic and pepper to taste. Stir until blended and smooth.
Other recipes you might like: