Double Tomato and Cheese Bruschetta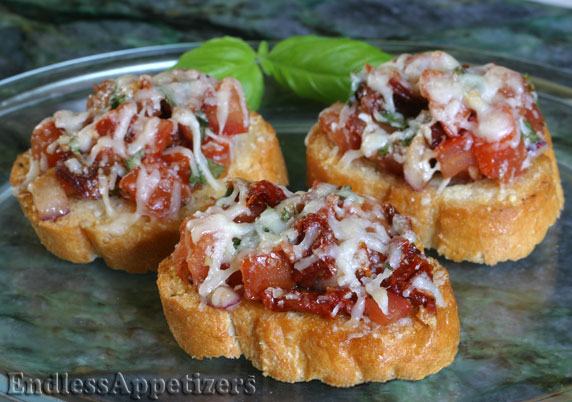 Yield:
18-25 bruschetta appetizers, depending on size of bread loaf
Tips:
Baguette, ciabatta, or other long, narrow loaf of bread may be used. For an even healthier appetizer, use a whole wheat baguette loaf. Tomatoes need to marinade for 4 hours, and can be marinated overnight.
Suggestion:
Serve as a finger food canapé for parties, holidays and other events.
If you are familiar with bruschetta (also referred to as crostini and canapés when served in small bite-size servings) and have had the fortunate opportunity to try a variety of bruschetta recipes, then you know how delightful and flavorful they are, and how they can be served in endless ways with virtually any combination of ingredients! Bruschetta make perfect appetizers for parties, and can also be served for brunch or lunch, or as a snack anytime. Just one baguette loaf of bread (a long, narrow loaf about 2-3 inches in diameter), when cut into slices, will easily produce enough elegant appetizers to feed a crowd, and are very inexpensive. Other loaves of bread, such as ciabatta or other Italian breads may be used, keeping in
mind that they need to be narrow enough to produce small appetizers. With such fresh ingredients, this bruschetta recipe is naturally healthy as well as delicious. You can easily make these healthy appetizers even healthier, simply by using a loaf of whole wheat bread (probably easier to find in baguette loaves).
This Double Tomato and Cheese Bruschetta recipe features a combination of chopped fresh tomatoes and sun-dried tomatoes, along with chopped red onion, fresh basil and minced garlic. These fresh and vibrantly colorful ingredients are tossed together with a marinade made with balsamic vinegar, extra virgin olive oil (or regular olive oil if you don't have extra virgin olive oil handy), some Kosher or sea salt and freshly ground pepper. This mixture is chilled overnight to allow the flavors to mingle. When ready to serve these double tomato bruschetta, simply scoop some of the marinated tomato mixture onto the lightly toasted bread slices and sprinkle a mixture of grated Asiago cheese and Parmesan cheese, then place the bruschetta under the broiler for just a minute or two until the cheese begins to melt and bubble. The broiled double tomato and double cheese bruschetta are not only amazingly scrumptuous, they have impressive eye appeal!
Ingredients
8 vine tomatoes, diced
1/2 cup sun-dried tomatoes in oil, chopped
4 garlic cloves, minced
1/4 cup chopped fresh basil
1/2 cup chopped red onion
1/2 cup extra-virgin olive oil (or regular olive oil), divided
3 tablespoons balsamic vinegar
1/2 teaspoon sea or Kosher salt
1/2 teaspoon freshly ground black pepper
1 baguette (whole wheat for a healthier version)
1 cup grated Asiago cheese
1 cup grated Parmesan cheese
Directions
In a large
mixing bowl
, combine tomatoes, garlic, basil and onion. Add 1/4 cup of the olive oil, vinegar, salt and pepper. Mix well to combine. Cover bowl with plastic wrap and refrigerate 4 hours up to overnight to allow flavors to combine.
Place the top oven rack 5 inches from the broiler element, then preheat the broiler.
Cut baguette into 1/2-inch-thick-slices (at a diagonal, if desired). Place bread slices on a baking sheet. Using a
pastry brush
, lightly brush bread slices with the remaining 1/4 cup of olive oil. Place baking sheet under the broiler and cook until bread slices turn golden brown, watching carefully to avoid burning (2-5 minutes, depending on bread used). Immediately remove from oven, leaving the broiler on.
Spread a 3/4-inch-thick layer of the tomato mixture on each baguette slice. Sprinkle with grated cheese. Place under the broiler once again and heat until the cheese melts and begins to bubble. Remove from oven and serve.
Other recipes you might like: