Caesar Bruschetta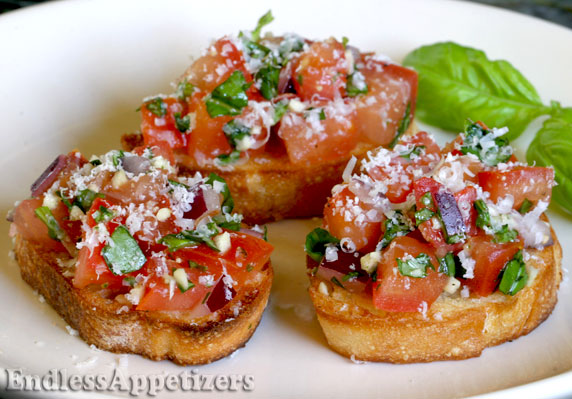 Cook Time:
About 5 minutes for broiling bread slices
Tips:
Multi-grain or whole wheat baguettes (or other narrow loaves of bread) will give this bruschetta recipe additional healthy benefits. Wider loaves of bread will produce larger individual servings. For very small servings, use baguettes that have a 2 to 3-inch diamater. Rustic artisanal or Italian style breads accompany this tomato bruschetta nicely, due to their chewy texture.
Suggestion:
Serve as a healthy appetizer or snack for parties, holidays or any event, or for snacking anytime.
Bruschetta (also sometimes referred to as Crostini and/or Canapés) has so many wonderful qualities. It's almost always incredibly easy to prepare, can be topped with an endless variety of ingredients, and can be served as a healthy snack when fresh ingredients are used, such as
with this Caesar Bruschetta recipe.
Caesar Bruschetta is one of those incredibly easy bruschetta recipes, featuring chopped tomatoes, chopped fresh basil leaves, diced red onion and minced fresh garlic. These fresh and colorful ingredients are tossed with a high quality Caesar dressing your choice, then a small amount of the tomato mixture is scooped onto small slices of toasted bread, creating beautiful and elegant finger food appetizers your guests will love! (Tip: You can make your own using a homemade
Caesar dressing recipe
, if desired, then use any remaining leftover dressing for salads, grilling chicken or other uses). Toasting the bread slices is also a very simple and easy process. Simply brush a little olive oil on the bread slices, then briefly broil or grill time (about 5 minutes or so) until the edges turn golden brown in color. These elegant appetizers taste light and fresh and will disappear quickly!
Ingredients
1 lb. large dark red tomatoes, cored and seeds removed
1 baguette or small loaf rustic artisanal bread
olive oil (for brushing bread slices)
Kosher or sea salt
1/4 cup chopped fresh basil
2 tablespoons finely diced red onion
2-3 teaspoons minced fresh garlic
3 tablespoons high-quality Caesar dressing



Garnish (optional)

freshly grated Parmesan cheese
small fresh basil leaves
Directions
Preheat the broiler or preheat a grill to medium-high.

Dice tomatoes into 1/4 to 1/2 inch pieces and place in a strainer to drain any excess juice. If using a baguette, cut twelve 1/2-inch diagonal slices from the loaf. If using a thicker bread loaf (with a larger diameter), cut into six 1/2-inch slices, then cut each slice in half crosswise, making 12 pieces. (Use any leftover bread for another purpose.)

Lightly brush both sides of the bread slices with olive oil and broil or grill bread slices on each side until lightly toasted and golden brown around the edges. Sprinkle the toasted bread slices lightly with salt, then transfer to a platter.

In a medium mixing bowl, toss together the tomatoes, basil, onion, garlic and Caesar dressing. Scoop equal amounts of the tomato mixture on top of each toasted bread slice. If desired, sprinkle with freshly grated Parmesan cheese and garnish with basil leaves.
Other recipes you might like: