Healthy Appetizers
Healthy appetizers and healthy snacks are becoming increasingly popular these days, as our awareness grows about the positive effects heatlhy foods and good nutrition can have on our lives. What is considered to be healthy appetizers can vary from person to person. While some might think of vegetable appetizers and vegetable snacks as healthy, others might think of
appetizers made with lean meats, seafood or whole grains as healthy. Those who are following a restricted diet might prefer low calorie snacks, while others might prefer appetizers with a low sugar content. No matter what we think a nutritional snack might be, one thing is for certain - healthy appetizer recipes always offer freshness, color and full flavor that can't be denied! Whether you're looking for party appetizers, holiday appetizers, anytime snack food or even healthy snacks for kids (also see
Kid Appetizers
for more kid-friendly appetizers), it's nice to know that there are now plenty of healthy recipes available.
Because healthy snacks can be interpreted in so many ways, these Healthy Appetizers pages contain a variety of appetizer recipes for your browsing pleasure. Within these Healthy Appetizer pages, you'll find recipes for
vegetable appetizers
,
chicken appetizers
,
seafood appetizers
,
nut appetizers
and even a fruit appetizer (with more to come). Each appetizer recipe has its own unique healthy qualities, so the choice is yours as to which of these healthy appetizers you'd like to try!
Healthy Appetizer Recipes ▼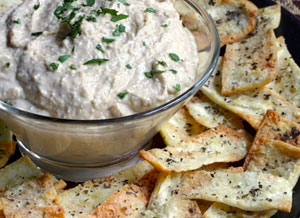 Making your own
hummus and pita chips
is as easy as pushing the button on your food processor! This hummus recipe also comes with an easy homemade baked Pita Chip recipe made from pita bread, giving the pita chips a healthy quality as well. This hummus recipe is made with garbanzo beans (chick peas), tahini, garlic, lemon juice, olive oil and a small amount of cayenne pepper, and tastes fabulous with the pita chips.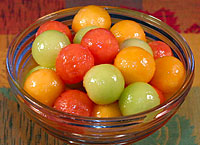 Honey Lime Melon Balls
can be served with toothpicks as an appetizer or as a colorful
fruit salad
. Cantaloupe, honeydew melon and watermelon come together to create this colorful fruit appetizer that will bring life to any table! Assorted melon balls are marinated in a Honey Lime dressing that gives this fruit appetizer a delightful tart and sweet coating. May be served as a fruit snack, a fruit salad or a light and healthy dessert.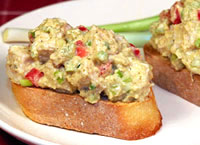 Hummus Chicken Salad
is wonderful on
crispy Baked Crostini
or soft mini slices of bread, and a wonderful twist to the traditional chicken salad. This
chicken salad recipe
is made with hummus rather than mayonnaise, giving it light and refreshing taste as well as healthful benefits. Diced celery, green onions and red bell pepper are also added into the mix, providing a fresh and tasty crunch!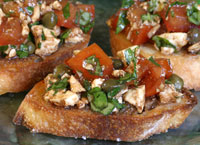 Italian bruschetta with Feta and Capers
is colorful and elegant, and has distinct and delicious tangy flavor that will leave your guests craving more! The tasty topping consists of diced tomatoes, crumbled feta, capers, fresh chopped parsley and basil, salt and freshly ground pepper, along with a dash of some red pepper flakes for a little "kick." This mixture is tossed with some balsamic vinegar and olive oil for the perfect final touch!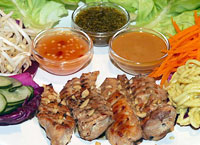 This healthy and delicious
Lettuce Wraps recipe
features Satay-marinated grilled chicken breast topped with chopped peanuts, served with sweet and sour cucumbers, bean carrots and Coconut Curry Noodles. Nutter lettuce leaves are served on the side and used for wrapping around these wonderful ingredients. Served with 3 dipping sauces: Sweet Red Chili with Garlic Sauce, Red Chili with Cilantro Sauce and Spicy Peanut Sauce.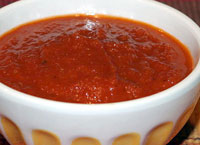 This traditional
Marinara Sauce recipe
is made with tomato sauce, crushed tomatoes , diced onion, minced garlic, red pepper flakes and dried crushed basil and oregano leaves, and can be used for a large variety of Italian dishes. It also is wonderful served as a dipping sauce for
Cheese and Garlic Breadsticks
,
Mini Calzones
, pizza crust, crispy-fried breaded cheese sticks, crispy-fried breaded zucchini sticks and more.