Healthy Appetizers
Healthy appetizers and healthy snacks are becoming increasingly popular these days, as our awareness grows about the positive effects heatlhy foods and good nutrition can have on our lives. What is considered to be healthy appetizers can vary from person to person. While some might think of vegetable appetizers and vegetable snacks as healthy, others might think of
appetizers made with lean meats, seafood or whole grains as healthy. Those who are following a restricted diet might prefer low calorie snacks, while others might prefer appetizers with a low sugar content. No matter what we think a nutritional snack might be, one thing is for certain - healthy appetizer recipes always offer freshness, color and full flavor that can't be denied! Whether you're looking for party appetizers, holiday appetizers, anytime snack food or even healthy snacks for kids (also see
Kid Appetizers
for more kid-friendly appetizers), it's nice to know that there are now plenty of healthy recipes available.
Because healthy snacks can be interpreted in so many ways, these Healthy Appetizers pages contain a variety of appetizer recipes for your browsing pleasure. Within these Healthy Appetizer pages, you'll find recipes for
vegetable appetizers
,
chicken appetizers
,
seafood appetizers
,
nut appetizers
and even a fruit appetizer (with more to come). Each appetizer recipe has its own unique healthy qualities, so the choice is yours as to which of these healthy appetizers you'd like to try!
Healthy Appetizer Recipes ▼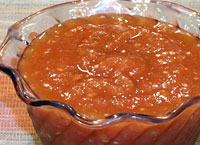 This wonderfully fresh
Tomato and Tomatillo Salsa
is made with tomatoes, tomatillos, onion, garlic and Serrano chile pepper. It's flavor is quite unique, and pleasantly differs from traditional salsa recipes that are made with tomatoes (yet no tomatillos). The tomatoes and tomatillos marry beautifully with this salsa recipe, producing a fresh, tart, and lively flavor, while the Serrano pepper adds the perfect balance of spice.