Tomato and Tomatillo Salsa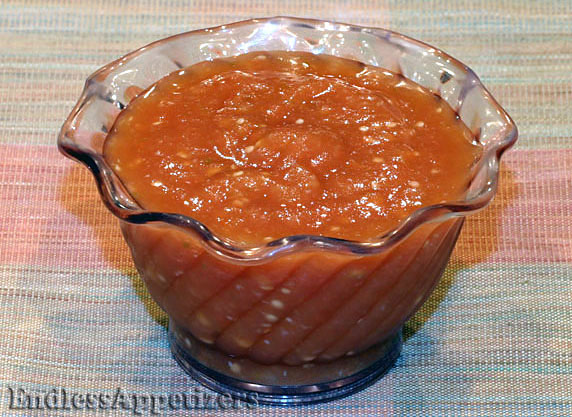 Tips:
May be made a day in advance and stored in refrigerator.
Suggestion:
Delicious with chicken and warm tortillas (see Sinaloa Grilled Chicken), tortilla chips, Mexican dishes and more.
This wonderfully fresh Tomato & Tomatillo Salsa is made with tomatoes, tomatillos, onion, garlic and Serrano chile pepper. It's flavor is quite unique, and pleasantly differs from traditional salsa
recipes that are made with tomatoes (yet no tomatillos). The tomatoes and tomatillos marry beautifully with this salsa, producing a fresh, tart, and lively flavor, while the Serrano pepper adds the perfect balance of subtle spice.
If you have ever tried Mexican versions of salsa verde (made with tomatillos), then you know the kind of wonderful flavor that tomatillos bring to the table. Tomatillos are commonly used in Latin American sauces, and are known as "green tomatoes." They have an inedible paper-thin husk that is removed prior to preparation.
This salsa recipe was originally introduced with Sinaloa Grilled Chicken, but can certainly be served with all sorts of foods, including chicken, fish, beef and pork, Mexican dishes, tortilla chips, omelets, and any other food that is well complimented by salsa. The short length of this recipe shows how quick and easy this salsa is to make! 
Ingredients
3/4 lb. tomatoes
3 tomatillos
1/4 medium onion
1 large clove garlic
1 Serrano chile
2 cups water
1/2 teaspoon salt
Directions
Remove papery husks from tomatillos and rinse together with tomatoes in a colander. Place tomatoes, tomatillos, onion, garlic and chile in large saucepan. Add water. Bring to a boil, then reduce heat and cover. Simmer for 10 minutes.

Drain vegetables. Remove peel from tomatoes (this is very easy, as the peels will be falling off). Place all ingredients in a food processor or blender and puree. Pour salsa into a container and stir in salt. Cover and store in refrigerator until ready to serve.
Other recipes you might like: