Healthy Appetizers
Healthy appetizers and healthy snacks are becoming increasingly popular these days, as our awareness grows about the positive effects heatlhy foods and good nutrition can have on our lives. What is considered to be healthy appetizers can vary from person to person. While some might think of vegetable appetizers and vegetable snacks as healthy, others might think of
appetizers made with lean meats, seafood or whole grains as healthy. Those who are following a restricted diet might prefer low calorie snacks, while others might prefer appetizers with a low sugar content. No matter what we think a nutritional snack might be, one thing is for certain - healthy appetizer recipes always offer freshness, color and full flavor that can't be denied! Whether you're looking for party appetizers, holiday appetizers, anytime snack food or even healthy snacks for kids (also see
Kid Appetizers
for more kid-friendly appetizers), it's nice to know that there are now plenty of healthy recipes available.
Because healthy snacks can be interpreted in so many ways, these Healthy Appetizers pages contain a variety of appetizer recipes for your browsing pleasure. Within these Healthy Appetizer pages, you'll find recipes for
vegetable appetizers
,
chicken appetizers
,
seafood appetizers
,
nut appetizers
and even a fruit appetizer (with more to come). Each appetizer recipe has its own unique healthy qualities, so the choice is yours as to which of these healthy appetizers you'd like to try!
Healthy Appetizer Recipes ▼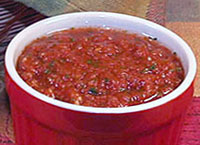 Once you try this
homemade Salsa recipe
and realize how quick and easy it is to make, premade bottled salsa will never again be able to compare! This salsa is perfect served with fresh tortilla chips because of their undeniable freshness and crispiness, though packaged chips can also be used. If you'd like to whip up a batch of fresh tortilla chips with this salsa, an easy recipe for homemade tortilla chips is included with this recipe.,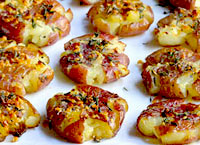 This
Smashed Red Potatoes recipe
features small baby red potatoes that have been baked in a hot oven until soft, then coated with some olive oil and gently smashed down. A mixture of melted butter, sautéed garlic and fresh thyme leaves is then drizzled over the tops of the potatoes, seeping into the cracks and openings. The potatoes are then seasoned with some salt and pepper and roasted until brown and crispy.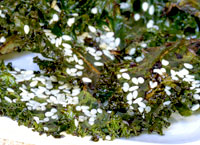 For those who love the flavor of potato chips but are not particularly fond of the calories,
Soy and Sesame Kale Chips
are a great healthy and tasty alternative! This healthy and easy snack recipe features kale that is tossed with olive oil and soy sauce, then baked in the oven until they become crunchy. During the last few minutes of cooking, sesame seeds are sprinkled over the tops, giving this healthy snack added flavor and texture.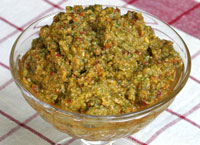 This
easy pesto recipe
is similar to traditional pesto recipes, in that it uses fresh basil leaves, Parmesan cheese, pine nuts and olive oil. However, while there is no garlic used with this recipe, sun-dried tomatoes (oil-packed or dried), freshly squeezed lemon juice, red pepper flakes and a little salt are added, bringing amazing tangy and delicious flavor to this pesto. See the
recipe
for great serving ideas!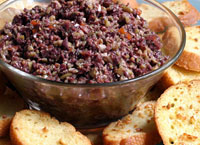 This recipe for
Tapenade
(also sometimes called olive tapenade) combines a mixture of kalamata olives (Greek olives), green olives, garlic, capers and olive oil (fresh thyme and/or anchovies may also be added if desired, though are entirely optional). This tapenade is full of robust and distinctive flavor, and tastes fabulous with baked crostini (shown in photo), pita chips, crackers, thin slices of crusty bread or crudités (fresh vegetables).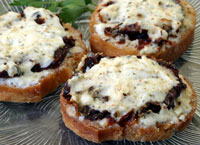 This tasty
crostini recipe
features thin slices of bread that are brushed with olive oil and baked until golden and crispy. The small toasts are then topped with a mixture of three cheeses combined with minced garlic. Sun-dried tomatoes are placed on top of the cheese mixture, then another layer of cheese mixture is placed on top of the sun-dried tomatoes. The crostini are returned to the oven to briefly bake again until melted.