Healthy Appetizers
Healthy appetizers and healthy snacks are becoming increasingly popular these days, as our awareness grows about the positive effects heatlhy foods and good nutrition can have on our lives. What is considered to be healthy appetizers can vary from person to person. While some might think of vegetable appetizers and vegetable snacks as healthy, others might think of
appetizers made with lean meats, seafood or whole grains as healthy. Those who are following a restricted diet might prefer low calorie snacks, while others might prefer appetizers with a low sugar content. No matter what we think a nutritional snack might be, one thing is for certain - healthy appetizer recipes always offer freshness, color and full flavor that can't be denied! Whether you're looking for party appetizers, holiday appetizers, anytime snack food or even healthy snacks for kids (also see
Kid Appetizers
for more kid-friendly appetizers), it's nice to know that there are now plenty of healthy recipes available.
Because healthy snacks can be interpreted in so many ways, these Healthy Appetizers pages contain a variety of appetizer recipes for your browsing pleasure. Within these Healthy Appetizer pages, you'll find recipes for
vegetable appetizers
,
chicken appetizers
,
seafood appetizers
,
nut appetizers
and even a fruit appetizer (with more to come). Each appetizer recipe has its own unique healthy qualities, so the choice is yours as to which of these healthy appetizers you'd like to try!
Healthy Appetizer Recipes ▼
This
Four Bean Salad recipe
has a sweet and tangy flavor, and is a perfect salad to serve at picnics and BBQ's (can last all day with no refrigeration), or as a side dish to any main course anytime. Sliced green and wax beans, kidney beans and garbanzo beans (chick peas) along with slivered green bell pepper and green onion (optional, but delicious!), are tossed with a dressing made with a combination of oil, vinegar, sugar and salt.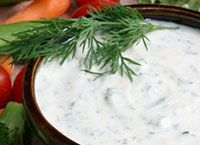 Fresh Herb Yogurt Dip
is a light and healthy dip that tastes fabulous with assorted fresh vegetables. It is made with yogurt, fresh dill, fresh parsley, lemon juice and lemon zest (optional), along with some honey and Dijon mustard, giving it a sweet and tangy flavor boost. Photo shows
Fresh Herb Yogurt Dip
served with baby carrots, broccoli, sugar snap peas and cherry tomatoes, but you can add almost any fresh vegetable to the mix.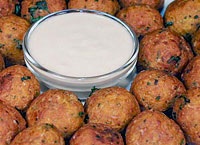 Garbanzo Ball appetizers
are made with a mixture of garbanzo beans (also known as "chickpeas"), lemon juice, minced garlic a little cayenne pepper and an assortment of herbs and spices. They are perfectly accompanied by a Tahini dipping sauce made with Tahini (also sometimes called "Tehina"), a paste made from ground sesame seeds, freshly squeezed lemon juice and a little water.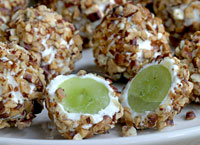 Looking for grape appetizer recipes? If you'd like to try a new and uniquely-tasting appetizer that has great eye appeal and a combination of interesting textures, these
Ginger Pecan Cream Cheese Grapes
are a great place to start! Seedless grapes are coated with cream cheese that has been combined with some finely chopped crystallized ginger, then the grapes are rolled in finely chopped toasted pecans and chilled.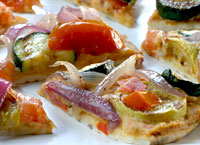 If you're looking for fun and easy healthy appetizers for your event, you can't go wrong with pita pizza! This
Grilled Vegetable and Hummus Pita Pizzas recipe
features grilled pita bread rounds slathered with hummus, then topped with briefly marinated grilled vegetables. The vegetables can be grilled on an indoor grill or sautèed in a skillet. Make this appetizer using your own favorite style pita bread and hummus flavor!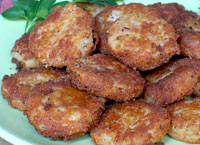 This easy
Ham and Cheese Potato Cakes appetizer recipe
features mashed potatoes combined with ground (or shredded) ham, shredded cheddar cheese, a little prepared mustard and some salt and pepper to taste. For an added kick, a dash of cayenne pepper and/or some minced or finely diced green onions can also be added for more flavor and texture, if desired. These little potato appetizers are also great served with dips!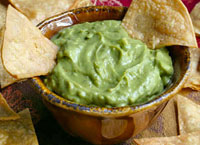 Whether served as a dip, garnish or spread,
Guacamole
is always a big hit and a delicious way to get a healthy dose of vitamins, minerals and omega 3's. Making guacamole is a great way to use up those avocados that have been sitting on the counter or in the refrigerator a few too many days and have become a little too soft. This guacamole recipe uses ripened avocados, seasonings, sour cream and some fresh lemon juice.