Ham and Cheese Potato Cakes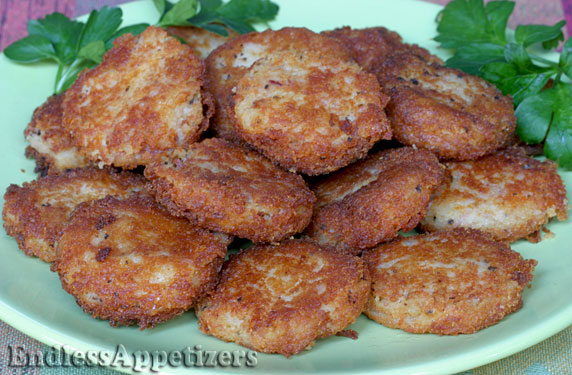 Tips:
May also be made as a main or side course simply by forming into 4-6 larger-sized cakes. To prepare as a vegetarian dish, simply omit the ham. Minced or finely-diced green onions and/or a dash of cayenne pepper can also be added for additional flavor and texture, if desired.
Potato appetizers are great because they are incredibly versatile, can be prepared in endless ways, can be baked, broiled or fried, and can be combined with all sorts of ingredients and seasonings. Potatoes are also very economical. A 5-lb. bag of Russet potatoes can often be found in grocery stores for less than a dollar!
These Ham and Cheese Potato Cakes are made by combining mashed potatoes, ground ham, shredded cheddar cheese, a little prepared mustard and some salt and pepper to taste. (For an added kick, a dash of cayenne pepper can also be added). One to two tablespoons of minced or finely diced green onions can also be added for more flavor and texture, if desired.
Vegetarians can also enjoy these potato cakes, simply by omitting the ham. (Tip: When it comes to grinding the ham, if you don't have a
meat grinder
(or a meat grinder attachment for your electric mixer) or food mill, you can use a cheese grater or simply dice the ham into very small pieces. These Ham and Cheese Potato Cakes are delicious served on their own, or with dipping sauces, such as
Buttermilk Ranch Dip
and
Chipotle Ranch Dip
, both of which can be also used as a salad dressing. Made in larger-sizes, these potato cakes can also be served as a side dish to a many main courses.
Ingredients
2 cups mashed potatoes (about 1 1/4 lbs. potatoes)
1 egg, beaten
1/2 cup ground cooked ham
1/2 cup shredded cheddar cheese
1/4 teaspoon prepared mustard
salt and pepper to taste
dash of cayenne pepper (optional)
1-2 tablespoons minced green onion (optional)
about 1/3 cup oil (or more as needed for frying)
Directions
Wash potatoes, leaving skins on. Fill a large pot with enough water to cover potatoes. Bring water to a boil and carefully immerse potatoes into water (with skins still on). Boil potatoes over medium-high heat for about 25-35 minutes, or until a fork inserts easily into the center of one of the larger potatoes.

When potatoes are ready, drain in a collander and allow to cool for 3-5 minutes. Remove skins from potatoes, then transfer potatoes to a cutting board and cut into large chunks. Place cut potatoes in a large bowl (or electric mixer bowl). Using a handheld mixer or an electric mixer, beat potatoes until smooth and mashed.

Add to the bowl of potatoes egg, ham, cheese, mustard, salt and pepper to taste (and cayenne pepper and green onions, if using) and manually blend until well-combined. Form mixture into 1 1/4 to 1 1/2-inch balls, then flatten into 1/2-inch-thick cakes. Place potato cakes on a plate or baking sheet near cooking area.

Heat oil in a large skillet (preferably non-stick) and gently place cakes into oil. Fry until golden brown, then turn and fry other side until golden brown (about 1-2 minutes per side). Adjust heat as necessary if potatoes are cooking too quickly or too slowly. Carefully remove potato cakes and transfer to a plate covered with a few paper towels (to drain). Serve alone or with dip (see recipe description for dip ideas).
Other recipes you might like: