Garlic Parmesan Potato Wedges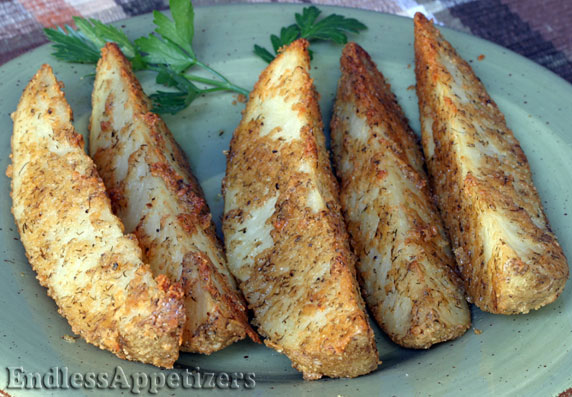 Tips:
For smaller potato wedges, you can use smaller potatoes (which will produce more wedges and works great if you're using this recipe for appetizers.)
Suggestion:
Delicious served as a side dish, as appetizers or for anytime snacking!
If you've ever wondered how to make potato wedges (perhaps the kind restaurants often serve as appetizers), this Garlic Parmesan Potato Wedges
recipe provides an easy way to make your own roasted homemade potato wedges with fabulous flavor! Simply cut some Russet potatoes lengthwise to create wedges, toss them in olive oil, then toss them again with a super easy mixture of grated parmesan cheese, garlic powder, thyme, salt and pepper. Pop them in the oven, and 35-40 minutes later, the potatoes will become tender, while the cheese and garlic coating will become crispy, golden and delicious.
If you plan on making these potato wedges as an appetizer, you can use smaller potatoes, which will create more smaller-sized wedges. These potato wedges are also great as a fun side dish or for anytime snacking. These taste great on their own, but you can also serve them with creamy dips (such as buttermilk ranch dip) or dollops of sour cream if you wish.
Ingredients
4 large Russet potatoes
1/4 cup oil
2/3 cup grated Parmesan cheese
1/2 teaspoon salt
1/2 tesapoon freshly ground black pepper
4 teaspoons garlic powder
2 teaspoons dried thyme, crushed
Directions
Preheat oven to 375° F.

Wash potatoes and pat dry with paper towels. Cut each potato lengthwise into 6 wedges. Place wedges in a large mixing bowl. Drizzle oil over wedges and stir until all potatoes are well coated.

In a small mixing bowl, whisk together Parmesan cheese, salt, pepper, garlic powder and thyme. Sprinkle mixture over potatoes a while stirring until all potatoes are well coated.

Spread potatoes on a greased baking sheet (use oil or non-stick spray) and bake for 35-40 minutes, or until potatoes are tender and cheese coating has turned to a light golden brown color. Turn potatoes once half-way through baking time.
Other recipes you might like: