Tailgate Food
Although these pages do contain tailgate appetizer recipes, they are appropriately entitled "Tailgate Food" because the term "tailgate food" incorporates much more than just snack foods! Chances are you have landed on this page because you know what a tailgate party is, and are looking for some tailgate party food ideas. For those who are not familiar with what tailgate food is, let's go over a few things about tailgate parties.
What is a tailgate party? Well, let's first begin with the term (the noun form), "tailgate." A tailgate is the back part of a car (let's call it a door) that is hinged on the bottom and opens from the top down. Tailgates are typically found in station wagons (do you remember those?), pickup trucks, or sport utility vehicles. When the tailgate is opened, it can be used much like a table, whether it be for tools, picnic and beach supplies, or of course, tailgate party food and tailgate party accessories! Keep in mind that people who drive vehicles without tailgates also join in on the tailgate party fun!
Now that we've established what a tailgate is, let's talk about tailgate parties. Tailgate parties are traditionally held around football and baseball season, but are also popular with other sports, such as soccer, basketball and hockey. where grilled food and festive
beverages are the main players. Tailgate parties usually take place in parking lots nearby whatever sport is taking place. The party goers will park their vehicles, open their tailgates and set up their barbecue grills and ice chests. Everyone then gathers and enjoys the outdoors and the great tailgate party food, while popping open a soft drink or a beer or two to celebrate their chosen sport. Though these party goers are often called, "tailgaters," they are not to be confused with those drivers on the road who follow too closely behind the car in front of them. In any case, tailgate parties are the perfect way to celebrate the sport season, and are just as fun as they sound!
Tailgate party food usually consists of foods we'll often eat at picnics, such as hambrugers, hot dogs, baked beans, and salads such as coleslaw and potato salad. Easy quick snacks and finger foods (also sometimes referred to as tailgate appetziers) are also perfect for tailgate parties, because the main focus of tailgate parties is to have fun and socialize outdoors in a simple, easy and uncomplicated way. Tailgate party food can also come in the form of healthy snack foods, depending on the ingredients and how the food is prepared. Barbecued chicken and buffalo wings are light and healthy, and a container of fresh vegetables with some sort of dip will certainly be a big hit! Tailgate parties can also be a family event, so it's a good thing that tailgate party food can also be translated as perfect kids' snacks!
Some of these tailgate recipe links will direct you to
LoveThatFood.com
, a website I designed to share a larger variety of food recipes. LoveThatFood will open in a separate new window, allowing you to continue browsing appetizer recipes on this website. While you browse these pages for tailgate party food ideas, keep in mind that while tailgate food is great for outdoor tailgate parties, you certainly don't need to be outdoors to enjoy tailgate food! Tailgate parties are all about simplicity and having fun. You certainly don't need to hire an event planner for this type of event. The bottom line for planning for a tailgate party is to keep it simple, fun and easy!
Tailgate Recipes ▼
This
Four Bean Salad recipe
has a sweet and tangy flavor, and is a perfect salad to serve at picnics and BBQ's (can last all day with no refrigeration), or as a side dish to any main course anytime. Sliced green and wax beans, kidney beans and garbanzo beans (chick peas) along with slivered green bell pepper and green onion (optional, but delicious!), are tossed with a dressing made with a combination of oil, vinegar, sugar and salt.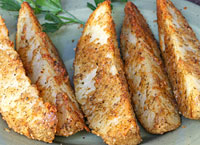 These
Garlic Parmesan Potato Wedges
are as easy to make as they are delicious! Simply cut some Russet potatoes lengthwise to create wedges, toss them in some olive oil, then toss them again with a super easy mixture of parmesan cheese, garlic powder, thyme, salt and pepper and pop them in the oven for 35-40 minutes, and you've got a fantastic tasting side dish, snack or appetizer!
Grilling corn
in its own husk over hot coals has got to be the best way to cook corn. It's simply a matter of trimming off the loose husk leaves from the top, and placing the entire cob wrapped in its own husk on the grill. Even better, you can cook the corn while you're grilling meats. The corn husks have a natural way of protecting the corn from burning, while sealing in all the flavors and natural juices. Crisp, tender and amazingly juicy!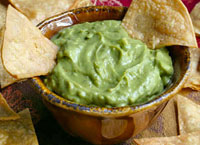 Whether served as a dip, garnish or spread,
Guacamole
is always a big hit and a delicious way to get a healthy dose of vitamins, minerals and omega 3's.
Making guacamole
is a great way to use up those avocados that have been sitting on the counter or in the refrigerator a few too many days and have become a little too soft. This
guacamole recipe
uses ripened avocados, seasonings, sour cream and some fresh lemon juice.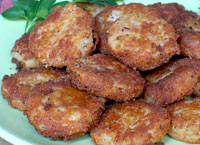 This easy
Ham and Cheese Potato Cakes appetizer recipe
features mashed potatoes combined with ground (or shredded) ham, shredded cheddar cheese, a little prepared mustard and some salt and pepper to taste. For an added kick, a dash of cayenne pepper and/or some minced or finely diced green onions can also be added for more flavor and texture, if desired. These little potato appetizers are also great served with dips!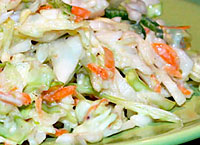 With the added flavors of horseradish, jalapeno and green onions, this
Horseradish Coleslaw recipe
is a welcomed change from traditional coleslaw recipes that tend to have a more mild flavor. This coleslaw contains just the right amount of spice (provided by prepared horseradish and coarse-grained mustard) to give it that "kick" without being too hot to handle, which makes it perfect for serving all ages.