Tailgate Food
Although these pages do contain tailgate appetizer recipes, they are appropriately entitled "Tailgate Food" because the term "tailgate food" incorporates much more than just snack foods! Chances are you have landed on this page because you know what a tailgate party is, and are looking for some tailgate party food ideas. For those who are not familiar with what tailgate food is, let's go over a few things about tailgate parties.
What is a tailgate party? Well, let's first begin with the term (the noun form), "tailgate." A tailgate is the back part of a car (let's call it a door) that is hinged on the bottom and opens from the top down. Tailgates are typically found in station wagons (do you remember those?), pickup trucks, or sport utility vehicles. When the tailgate is opened, it can be used much like a table, whether it be for tools, picnic and beach supplies, or of course, tailgate party food and tailgate party accessories! Keep in mind that people who drive vehicles without tailgates also join in on the tailgate party fun!
Now that we've established what a tailgate is, let's talk about tailgate parties. Tailgate parties are traditionally held around football and baseball season, but are also popular with other sports, such as soccer, basketball and hockey. where grilled food and festive
beverages are the main players. Tailgate parties usually take place in parking lots nearby whatever sport is taking place. The party goers will park their vehicles, open their tailgates and set up their barbecue grills and ice chests. Everyone then gathers and enjoys the outdoors and the great tailgate party food, while popping open a soft drink or a beer or two to celebrate their chosen sport. Though these party goers are often called, "tailgaters," they are not to be confused with those drivers on the road who follow too closely behind the car in front of them. In any case, tailgate parties are the perfect way to celebrate the sport season, and are just as fun as they sound!
Tailgate party food usually consists of foods we'll often eat at picnics, such as hambrugers, hot dogs, baked beans, and salads such as coleslaw and potato salad. Easy quick snacks and finger foods (also sometimes referred to as tailgate appetziers) are also perfect for tailgate parties, because the main focus of tailgate parties is to have fun and socialize outdoors in a simple, easy and uncomplicated way. Tailgate party food can also come in the form of healthy snack foods, depending on the ingredients and how the food is prepared. Barbecued chicken and buffalo wings are light and healthy, and a container of fresh vegetables with some sort of dip will certainly be a big hit! Tailgate parties can also be a family event, so it's a good thing that tailgate party food can also be translated as perfect kids' snacks!
Some of these tailgate recipe links will direct you to
LoveThatFood.com
, a website I designed to share a larger variety of food recipes. LoveThatFood will open in a separate new window, allowing you to continue browsing appetizer recipes on this website. While you browse these pages for tailgate party food ideas, keep in mind that while tailgate food is great for outdoor tailgate parties, you certainly don't need to be outdoors to enjoy tailgate food! Tailgate parties are all about simplicity and having fun. You certainly don't need to hire an event planner for this type of event. The bottom line for planning for a tailgate party is to keep it simple, fun and easy!
Tailgate Recipes ▼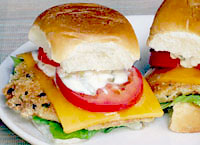 If you're looking for a new and fun, quick and easy way to serve fish that everyone in the family will love, these
Tilapia Sliders
are the perfect answer! These mini sandwiches feature tasty little coated and fried Tilapia filets sandwiched between two soft Hawaiian style buns, together with slices of cheddar cheese, romaine lettuce leaves, tomato slices and a sweet and tangy homemade tartar sauce.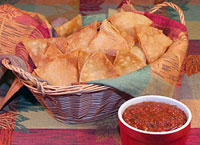 Once you try this
homemade Salsa recipe
, and these homemade tortilla chips, premade bottled salsa will never again be able to compare. This salsa is best served with Homemade Tortilla Chips, because of their undeniable freshness and crisp, though packaged chips can also be used.
Salsa and Tortilla Chips
are always a huge hit that offer the perfect perfect blend of flavor and spice, making them a quick disappearing act!
The flavors of bacon, wasabi, Dijon mustard and horseradish marry beautifully together in this tangy and delicious
Wasabi Bacon Potato Salad recipe
. This potato salad has vibrant flavor and a delightful crunch provided by crumbled bacon as well as diced celery green onions. Red wine vinegar adds wonderful tanginess to this salad as well, turning it into a nice wake-up call from other traditional potato salad recipes!