Olive and Tomato Bruschetta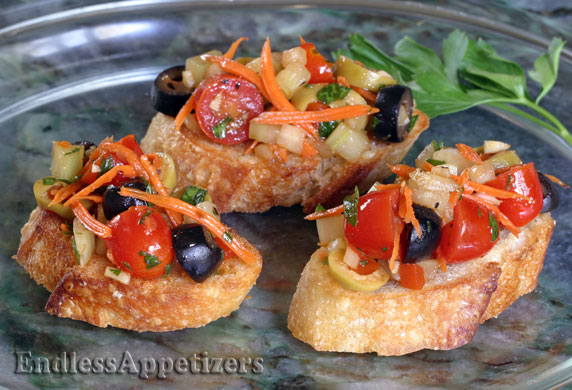 Yield:
About 12 servings, depending on thickness of bread loaf
Cook Time:
4-8 minutes for grilling or broiling bread slices
Tips:
For eye appeal, cut bread slices at an angle. If desired, a combination of red and yellow grape tomatoes may be used for added color. For extra tanginess, add an additional 1 teaspoon of balsamic vinegar. 2 tablespoons of sliced white parts of green onions may be used instead of sweet onion, if desired. To serve vegetable mixture as a salsa with tortilla chips or pita chips, simply cut tomatoes into quarters instead of halves and serve in a bowl.
Suggestion:
Serve as a party or holiday appetizer, or as a healthy snack anytime.
Coming up with great appetizer ideas for a party or for a holiday dinner such as Thanksgiving, Christmas or any other holiday, most of us strive to find appetizers that taste great, have festive color, and if dinner is to be served later, are hopefully not too filling. If we can include healthy appetizers on that checklist, we're in great shape! This Olive and Tomato Bruschetta recipe encompasses all of these fabulous qualities, and will fit into virtually any dinner party, holiday party or any type of social gathering.
Though this bruschetta recipe is great any time of year, for any party or holiday, let's take a quick look at Thanksgiving. There's quite a demand for healthy Thanksgiving appetizers. One popular appetizer often served at Thanksgiving dinner gatherings is a tray of vegetables, including carrots, celery and grape or cherry tomatoes, usually accompanied by some sort of dip. Another easy snack that usually makes its way to the Thanksgiving menu is a bowl of green olives and black olives. These are wonderful Thanksgiving snack ideas, because in addition to being easy to prepare,
they are healthy and aren't filling, thus won't ruin anyone's appetite for the delicious dinner that lies ahead. Well, it just so happens that all of these tasty healthy snacks are included in this bruschetta recipe! The vegetables and olives are sliced or diced and tossed with some olive oil and balsamic vinegar and a little salt and pepper to taste. Small amounts of this healthy mixture is then spooned onto grilled or broiled crostini (small slices of baguette bread). The presentation is impressive and adds every element of holiday cheer!
You can use any type of baguette loaf you prefer, such as traditional, sourdough or wheat, whole grain, etc. The most important thing is to buy your baguette shortly before you intend to use it (no more than 1-2 days). Baguettes are so narrow, that they tend to dry out more quickly than larger loaves of bread. If you need to buy a baguette loaf a few days before preparing your brushcetta, then you might want to grill or broil your slices right away, then store them in a sealed plastic bag. Alternatively, you can cut your baguette in half, then store both halves in the bag it came in (separate the halves a little, then fold the bag in half), then place bread bag that inside a sealed plastic food storage bag. This will keep the bread fresh without making the crust too soft. (One of the appealing things about baguettes is their crispy outer crust.)
On a side note, the olive and tomato mixture also tastes great as a healthy salsa with tortilla chips, and would probably taste great with pita chips as well. If you'd like to serve the vegetble mixture as a salsa for tortilla chips or pita chips, simply cut the grape tomatoes into quarters rather than halves, and you're all set! Whether you serve this appetizer as bruschetta or healthy salsa, it is sure to brighten up your event!
Ingredients
2 cups (1 pint) grape tomatoes, halved
2 celery ribs, diced
1/4 cup sliced black olives
1/3 cup pimiento stuffed green olives, sliced
1/4 cup minced parsley
1 garlic clove, minced
1 carrot, julienned
1/3 sweet onion, finely minced
1 tablespoon olive oil
2 teaspoons balsamic vinegar
salt and freshly ground pepper to taste


About 12 slices grilled or broiled crostini, depending on thickness of bread loaf
Directions
In a large
mixing bowl
, combine tomatoes, celery, olives, parsley, garlic, carrot, onion, oil, vinegar and salt and pepper to taste. Gently toss to combine, then taste and add more salt and pepper if desired. Allow mixture to sit at room temperature for about 30 minutes.
While olive and tomato mixture is sitting at room temperature, grill or broil bread slices, then spoon mixture onto toast slices.
Other recipes you might like: