Hot Spinach Artichoke Dip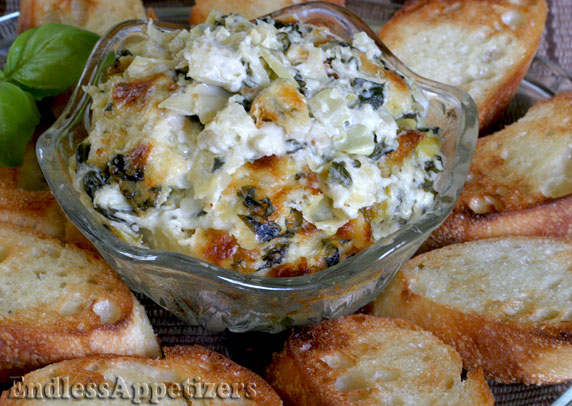 Yield:
About 8 servings or about 4 cups of dip
Tips:
If serving directly from the baking dish, using an attractive glass or ceramic baking dish is recommended. Dip may also be transferred to a serving bowl.
When searching for dip recipes to serve at your party or any event, you'll likely find that two dips are often the most popular - spinach dip and artichoke dip. The wonderful thing about spinach dips and artichoke dips is that they can be combined with other ingredients, adding a variety of flavors.such as with
Jalapeno Artichoke Dip
, or this Hot Spinach Artichoke Dip that conveniently combines the spinach with the artichokes! This spinach and artichoke dip is delicious
served hot from the oven, or can be served chilled.
Hot Spinach Artichoke Dip is made with thawed frozen spinach leaves, canned artichoke hearts, mozzarella cheese, Parmesan cheese, roasted garlic, and is combined with sour cream and mayonnaise for the perfect creamy consistency. This mixture is baked for a short time in the oven until the top turns golden brown in color around the edges. This dip can be served directly from the casserole dish it's baked in, simply by placing it on a
Hot Plate Holder
. If you have an attractive 8x8 or 9x9 glass or ceramic casserole dish, you might want to use that to add to the eye appeal. If preferred, this dip can be scooped out of the baking dish and transferred to a serving dish as well, because it will still be just as delicious once it cools. Serve this Hot Spinach Artichoke Dip with
Broiled Crostini
,
Baked Crostini
or assorted crackers. If desired, you can add more color, texture and flavor to this dip by garnishing it with diced tomatoes and chopped parsley.
Ingredients
1 13 to 15-oz. can artichoke hearts, drained and chopped
1/2 cup mayonnaise
1/2 cup sour cream
5 oz. frozen chopped spinach, thawed
3/4 cup grated Parmesan cheese
3/4 cup grated mozzarella cheese
1 teaspoon minced roasted garlic (recipe follows)
toasted small bread slices (See Broiled Crostini or Baked Crostini) or assorted crackers
Directions
Preheat oven to 375° F.
Peel one large garlic clove and cut off the tip. Coat with olive oil, then place in a shallow 8x8 or 9x9-inch baking dish (you will also use this baking dish for baking the dip). Bake in oven for about 15 minutes or until tender. Remove from oven, then place garlic clove on a cutting board and allow to cool, then mince. (Do not turn oven off.)
Place thawed spinach between a towel or a few paper towels and squeeze out water. In a medium
mixing bowl
, combine chopped artichoke hearts, mayonnaise, sour cream, spinach, Parmesan, mozzarella and roasted, minced garlic. Mix until thoroughly blended and transfer to the shallow baking dish you used for roasting the garlic. (Tip: If you plan to serve this dip directly from the baking dish, using an attractive baking dish is recommended.) Dip may also be transferred to a serving bowl onced baked, though might cool a little more quickly.
Bake for 22-25 minutes, or until slightly browned, especially around the edges. Remove from oven and serve in the baking dish using a
Hot Plate Holder
or transfer to a separate serving bowl. If desired, garnish with diced tomatoes, chopped parsley and Parmesan cheese.
Other recipes you might like: