Fried Zucchini Sticks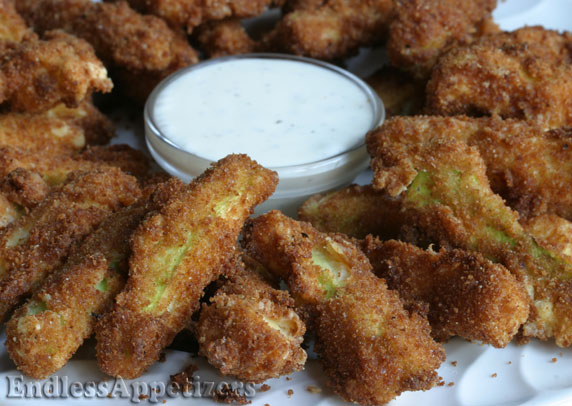 Yield:
100-140 zucchini sticks, depending on size of zucchini squash
Cook Time:
1-2 minutes per batch
Tips:
Spoons or hands may be used to coat zucchini sticks (hands might get a little messy and require frequent rinses under water, but will give you more control).
It's always great to find a kid-friendly appetizer recipe that appeals to all ages, and this zucchini appetizer recipe is right on target in this regard! Whether you like to call them fried zucchini sticks or zucchini fries, one thing is certain - these crispy fried zucchini sticks are universally enjoyed by everyone, including kids and the young at heart!
Fried Zucchini Sticks are probably also referred to as zucchini fries because they are
deep fried just like french fries, and have a somewhat similar shape (though beautifully random). Fried zucchini is often served in fast food restaurants in addition to french fries, which some might consider a healthy alterntaive, simply because zucchini is a green vegetable. For those kids who tend to shy away from green vegetables, these fun and tasty Fried Zucchini Sticks recipe will likely make them forget all about the fact that they're actually eating a green vegetable! Zucchini squash has a mild flavor, and when fried, have a tender yet firm texture; so when these crispy snacks are dipped into some
Buttermilk Ranch Dip
or other dips, kids will probably not even notice that they're biting into a green veggie!
Fried Zucchini Sticks are economical and easy to make, and a few zucchini squash will produce a lot of zucchini sticks! As with other fried foods, Fried Zucchini Sticks are best served immediately (or very soon) after frying, when they're hot and crispiest. They will still be delicious even after sitting at room temperature, however - though they'll likely not last long enough to cool down!
Ingredients
3 or 4 zucchini
3 or 4 eggs
2 cups dried bread crumbs
1/2 tesapoon granulated garlic
1/4 teaspoon black pepper
1 cup flour
oil for deep frying



Garnishes (optional)

lemon wedges
grated Parmesan cheese
Ranch, Chipotle Ranch or Blue Cheese Dip
Directions
Heat oil to 375° F.
While oil is heating, peel zucchini and cut widthwise into 2 to 2 1/2-inch strips, then cut those strips into 1/4-inch-thick pieces.
Place eggs in a medium
mixing bowl
and beat well. In a separate medium
mixing bowl
, whisk together bread crumbs, granulated garlic and pepper. Place the flour in a shallow bowl. Using spoons or your hands (rinsing under water as needed), dip the zucchini strips in the eggs to fully coat, then roll in the flour to coat; then dip once again in the eggs, then finish by rolling around in the bread crumbs to fully coat.
Using a slotted metal spoon or other similar utensil, carefully immerse coated zucchini sticks into the oil, only a few at a time to prevent crowding. Fry until zucchini turn crispy and golden brown in color. Remove with slotted utensil and place on a plate stacked with a few paper towels (to drain).
Serve immediately with a side of homemade
Buttermilk Ranch Dip
,
Zesty Ranch
,
Chipotle Ranch Dip
, or your preferred bottled Ranch or other dip or salad dressing. If desired, zucchini may be topped with shredded Parmesan cheese after arranging on serving plate or tray.
Other recipes you might like: