Blue Cheese Dip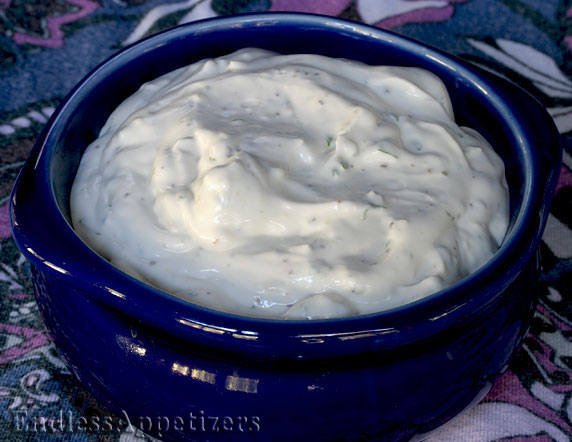 Tips:
If desired, to thin just before serving, stir in a little milk (1 tablespoon at a time per cup of dip or dressing) until you reach desired consistency (only add milk to the portion of dip / dressing you will be using, as milk will tend to thin out dip / dressing substantially while stored in the refrigerator).
Suggestion:
Fabulous served with a variety of appetizers and snacks (see recipe description for ideas), or as a salad dressing with fresh leafy green salad and cobb salad.
If you love blue cheese dressing, isn't it great to know that blue cheese dressing can also be used as a dip? If you've ever wondered how to make your own blue cheese dressing (or blue cheese dip) from scratch, you've really got to try this unbelievably easy homemade version! This Blue Cheese Dip recipe tastes fabulous, and will perfectly accompany a variety of snack foods and appetizers, such as buffalo wings and
Fried Zucchini Sticks
. As the photo shows, this dip / dressing is rich and creamy and full of wonderful big chunks of blue cheese as well as being seasoned with the perfect blend of herbs and spices. (Tip: Although chunks of blue cheese are desireable for salads, they can be smashed down to
smaller pieces when serving as a dip.) If you already have some mayonnaise and sour cream in your refrigerator, the only ingredient you will likely have to buy from the store is some blue cheese (found in the deli cheese section). You can purchase blue cheese in whole form or crumbled, so if you are using this recipe as a dip, you should probably go with the crumbled blue cheese. On the other hand, if you're making this recipe as salad dressing and enjoy large chunks of blue cheese, then you'll definitely want to buy the whole blue cheese. This blue cheese dip seems quite thick when first prepared, but its consistency may thin out a little while chilling in the refrigerator. If you prefer a dip that is slightly thinner, simply add a little milk (about 1 tablespoon at a time per cup of dip or dressing) until you reach a desired consistency - though be sure to only add milk to the dressing you will be using, because the milk will thin the dip / dressing out substantially while being stored in the refrigerator. For most, this blue cheese dip will be the perfect consistency without adding any milk.
Whether you make this recipe as a dip to be served with appetizers and snacks such as hot spicy buffalo wings,
Fried Zucchini Sticks
or even french fries, or as a salad dressing, you'll likely never buy another bottle of prepared blue cheese dressing again!
Ingredients
2 cups mayonnaise
1 cup sour cream
4-6 oz. blue cheese, crumbled
1 teaspoon dry mustard
1 teaspoon celery seed
1 teaspoon garlic powder
1 teaspoon finely minced garlic
1 tablespoon finely chopped parsley
1 tablespoon lemon juice
1 tablespoon white-wine vinegar
salt and freshly ground pepper to taste
Directions
Combine all ingredients in a mixing bowl until thoroughly blended. Chill in refrigerator until ready to serve.
Other recipes you might like: