Blue Cheese Dip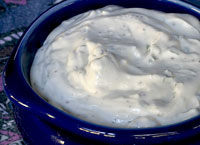 Tips:
If desired, to thin just before serving, stir in a little milk (1 tablespoon at a time per cup of dip or dressing) until you reach desired consistency (only add milk to the portion of dip / dressing you will be using, as milk will tend to thin out dip / dressing substantially while stored in the refrigerator).
Suggestion:
Fabulous served with a variety of appetizers and snacks (see recipe description for ideas), or as a salad dressing with fresh leafy green salad and cobb salad.
Ingredients
2 cups mayonnaise
1 cup sour cream
4-6 oz. blue cheese, crumbled
1 teaspoon dry mustard
1 teaspoon celery seed
1 teaspoon garlic powder
1 teaspoon finely minced garlic
1 tablespoon finely chopped parsley
1 tablespoon lemon juice
1 tablespoon white-wine vinegar
salt and freshly ground pepper to taste
Directions
Combine all ingredients in a mixing bowl until thoroughly blended. Chill in refrigerator until ready to serve.