Hot Spinach Artichoke Dip Bruschetta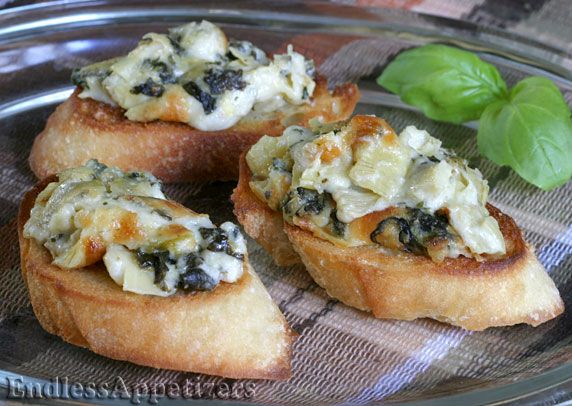 Yield:
About 15-20 crostini, depending on bread used
Tips:
If serving directly from the baking dish, using an attractive glass or ceramic baking dish is recommended. Dip may also be transferred to a serving bowl.
Suggestion:
May also be served with
Baked Crostini
or assorted crackers.
When searching for bruschetta recipes to serve at your party or any event, one of the easiest type of bruschetta appetizers to put together is one where you simply serve some plain toasted crostini (little slices of toasted bread) along with a dip. Long and narrow Italian or French style Baguettes are the best type of bread loaves to use, because they produce small individual servings when sliced.
When choosing a dip for your crostini, you'll likely find that spinach dip and artichoke dip are often the most popular. The wonderful thing about spinach dips and artichoke dips is that they can be combined with other ingredients, adding a variety of flavors.such as with
Jalapeno Artichoke Dip
, or the Hot Spinach Artichoke Dip that comes with this bruschetta recipe, which conveniently combines the spinach with the artichokes! This spinach and artichoke dip is
best served hot from the oven, though still is delicious cooled to room temperature or even chilled. Leftover refrigerated dip is also very easily reheated in the microwave (up to 1 minute).
Hot Spinach Artichoke Dip is made with thawed frozen spinach leaves, canned artichoke hearts, mozzarella cheese, Parmesan cheese, roasted garlic, and is combined with sour cream and mayonnaise for the perfect creamy consistency. This mixture is baked for a short time in the oven until the top turns golden brown in color, especially around the edges. This dip can be served directly from the casserole dish it's baked in, or it can be transferred to a serving bowl. To serve the dip in from the baking dish in which it was baked, simply place the baking dish on a
Hot Plate Holder
. If you choose to serve your dip this way and have an attractive 8x8 or 9x9 glass or ceramic baking dish, you might want to use that to add to the eye appeal. If you'd prefer to serve the Hot Spinach Artichoke Dip with assorted crackers instead of broiled crostini, see
Hot Spinach Artichoke Dip
, which skips the step in this recipe for broiling the crostini. You can add more color, texture and flavor to this dip by garnishing it with diced tomatoes and chopped parsley, if desired.
Ingredients
Broiled Crostini

(Note: Baked Crostini can be used instead of Broiled Crostini, if desired)
1 Italian, French or other baguette loaf
olive oil (as needed for brushing on bread slices)
1 large garlic clove, sliced in half width-wise



Dip

1 13 to 15-oz. can artichoke hearts, drained and chopped
1/2 cup mayonnaise
1/2 cup sour cream
5 oz. frozen chopped spinach, thawed
3/4 cup grated Parmesan cheese
3/4 cup grated mozzarella cheese
1 teaspoon minced roasted garlic (recipe follows)
Directions
Broiled Crostini
Arrange oven rack 4-6 inches below heating unit and preheat broiler.
Cut a baguette or other narrow loaf of bread into 1/4 to 1/2-inch-thick slices (1/4-inch slices are good for dipping into dips, while 1/2-inch slices are good for dipping as well as topping wth ingredients) and arrange on a baking sheet. Pour a little olive oil (about 2 tablespoons) into a very small bowl. Using a
pastry brush
, brush tops of bread slices with olive oil. Turn bread slices over and brush with olive oil again, adding more olive oil to bowl as needed.
Place baking sheet with bread slices under broiling unit and watch closely. As soon as bread slices turn golden brown around the edges and are just beginning to turn golden on the top, remove from oven (2-4 minutes, depending on distance from heating unit). Turn slices over and broil again until golden. Remove from oven, then rub the sliced sides of the garlic halves over one surface of each slice of bread. Set aside while preparing dip.
Dip
Preheat oven to 375° F.
Peel one large garlic clove and cut off the tip. Coat with olive oil, then place in a shallow 8x8 or 9x9-inch baking dish (you will also use this baking dish for baking the dip). Bake in oven for about 15 minutes or until tender. Remove from oven, then place garlic clove on a cutting board and allow to cool, then mince. (Do not turn oven off.)
Place thawed spinach between a towel or a few paper towels and squeeze out water. In a medium
mixing bowl
, combine chopped artichoke hearts, mayonnaise, sour cream, spinach, Parmesan, mozzarella and roasted, minced garlic. Mix until thoroughly blended and transfer to the shallow baking dish you used for roasting the garlic. (Tip: If you plan to serve this dip directly from the baking dish, using an attractive baking dish is recommended.) Dip may also be transferred to a serving bowl onced baked, though might cool a little more quickly.
Bake for 22-25 minutes, or until slightly browned, especially around the edges. Remove from oven and serve accompanied by Broiled Crostini in the baking dish using a
Hot Plate Holder
or transfer to a separate serving bowl. If desired, garnish with diced tomatoes, chopped parsley and Parmesan cheese.
Other recipes you might like: