Feta and Goat Cheese Bruschetta with Marmalade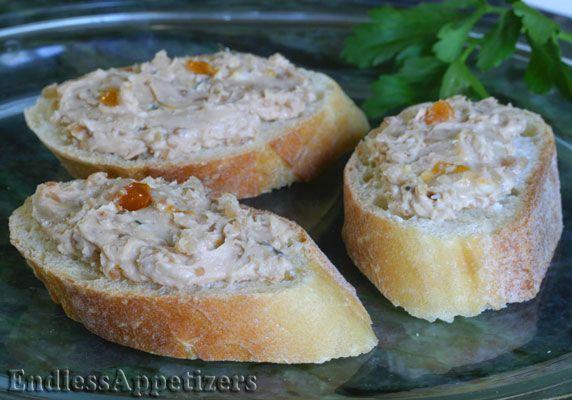 Yield:
18-25 servings, depending on size of baguette
Tips:
Raw, untoasted bread slices are recommended, though the cheese topping may be served on toasted slices if desired. To toast bread slices, see
Baked Crostini recipe
.
Suggestion:
Serve as an easy finger food appetizer for parties, holidays and other events.
Feta and Goat Cheese Bruschetta with Marmalade has a mildly sweet and savory flavor, and is a great cold appetizer to serve for parties and holidays. This tasty bruschetta is made with a combination of goat cheese and feta cheese combined with a marmalade made with honey, apricot preserves, balsamic vinegar, fresh thyme and dried onion flakes. This easy bruschetta recipe can be made with toasted or untoasted baguette or other bread slices (such as
ciabatta). Both are tasty; it's simply a matter of personal preference. If you'd like to serve this bruschetta with toasted bread slices, see
Baked Crostini
.
This bruschetta recipe is delightfully unique and quite easy to prepare. The goat cheese and feta cheese are combined, then a unique marmalade is mixed into the cheese, giving the cheeses a light amber color with attractive pieces of apricot and fresh thyme leaves throughout. Making the marmalade is very easy, and is simply a matter of heating the honey, apricot preserves, balsamic vinegar, thyme and onion flakes in a saucepan on the stove until slightly thickened. Once cooled, the marmalade and cheeses are combined, then placed in the refrigerator to chill for up to an hour. When you're ready to serve these bruschetta, simply spread small amounts of this sweet and savory cheese and marmalade mixture onto toasted or untoasted slices of bread, and you're got some uniquely elegant cold appetizers for a crowd!
Ingredients
8 oz. cream cheese, softened
3 1/2 oz. feta cheese, crumbled
3 1/2 to 4 oz. goat cheese, crumbled
1 long, narrow baguette loaf



Apricot Honey Marmalade

1 tablespoon honey
3 tablespoons apricot preserves
1 tablespoon balsamic vinegar
2 tablespoons dried chopped onion
1 tablespoon chopped fresh thyme
Directions
Place cream cheese in a
mixing bowl
and beat with a
electric hand mixer
until creamy (an electric mixer may also be used). Add feta and goat cheese and beat again on low speed until well-blended. Set aside.
Marmalade
In a small saucepan, combine honey, apricot preserves, vinegar, onion and thyme. Cook over medium heat until thickened (about 2-3 minutes), stirring constantly. Remove from heat and allow to cool to room temperature.
Once marmalade mixture has cooled to room temperature, add to cheese mixture and whip again on low speed with
electric hand mixer
until well-blended. Cover and chill in refrigerator for up to 1 hour, or until mixture becomes firm.
Spoon about 1 tablespoon (or whatever amount comfortably fits) mixture onto bread slices and serve, keeping in mind a little cheese spread goes a long way due to its richness.
Other recipes you might like: