Cherry Avocado Salsa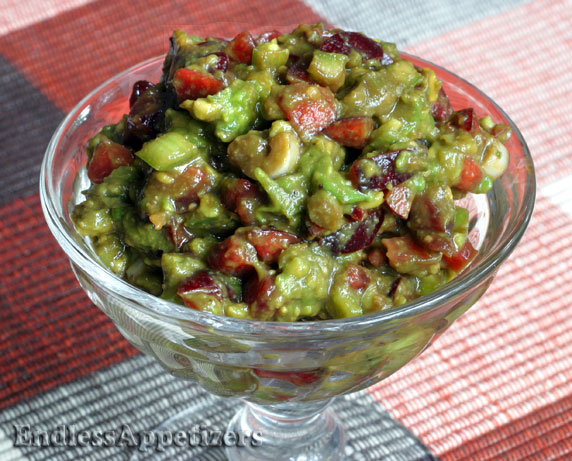 Tips:
To achieve brightest color, stir briefly (avocados will turn darker in color if over-mixed with the cherry juice (green and red combined produce a brown color). Best served first time prepared, as leftovers may lose their vibrant color (though will still taste fresh).
Suggestion:
Delicious served with tortilla chips, pita chips, celery sticks and more, or as a salsa with
Cherry Meatball Sliders
.
Guacamole is often the first thing that comes to mind when we think of dips made with avocados, but avocado salsa can be a fabulous alternative to guacamole, offering a variety of additional flavors and vibrant color! This Cherry Avocado Salsa has a fresh and mildly sweet and tart flavor that comes from some diced fresh sweet cherries. Chopped green onions and diced Anaheim chiles
give this avocado salsa a little mild spice, while some Balsamic vinegar adds the perfect touch of tanginess.
As with most guacamole, avocado dip and avocado salsa, it's always best to serve this salsa fresh, soon after you've made it, because the color will be more vibrant and there will be no settling of liquids that often comes from storing avocado dip or avocado salsa in the fridge. Another quick tip - when combining the avocado with the diced cherries and other ingredients, only stir briefly to combine, because the red color of the juice from the cherries will tend to darken the green color of the avocados. Just as with most any kind of avocado dip, this Cherry Avocado Salsa goes well with tortilla chips, pita chips, celery sticks and other crunchy snacks. It also is the perfect salsa accompaniment to
Cherry Meatball Sliders
, which also feature meatballs that are made with some diced fresh sweet cherries. Considering the pretty red and green colors in this avocado salsa, this would be a great appetizer to serve at a Christmas party!
Ingredients
1 cup pitted and chopped fresh sweet cherries
1 ripe avocado, pitted, peeled and coarsley mashed
1/4 cup diced Anaheim chile pepper
2 tablespoons chopped green onions
1 tablespoon balsamic vinegar
1/2 teaspoon garlic salt
1/4 teaspoon ground black pepper
Directions
Combine all ingredients in a
mixing bowl
and stir briefly just enough to blend. (Note: Over-stirring may cause some of the green color in the avocado to turn dark from the cherry juices.).
Other recipes you might like: