Pyramid Avocado Dip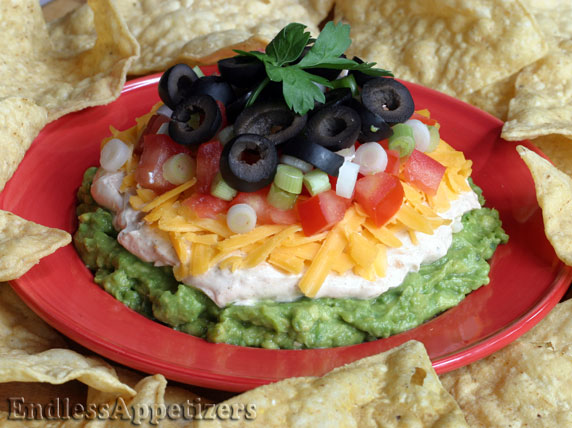 Tips:
Serve immediately after preparing for best results.
Suggestion:
Delicious served with tortilla chips, sliced red bell peppers, sliced jicama, carrot sticks, taquitos and/or other assorted dipping foods.
Whether you're planning a party, a birthday party, a holiday gathering or any other event, it's always great to find easy dip recipes that appeal to everyone, as well as add an element of fun. This Pyramid Avocado Dip recipe is similar to Seven Layer Dip (also sometimes spelled "7 Layer Dip"), in that several layers of various ingredients are stacked into layers, allowing guests to dip into multiple flavors all at once. Though the ingredients in Seven Layer Dip recipes
can vary, they usually consist of refried beans, sour cream, shredded cheddar or other cheese, guacamole, sliced green onions and sliced black olives.
Just like Seven Layer Dip, Pyramid Avocado Dip has layers (6, if we're counting), though the ingredients slightly differ. No refried beans are used with this Mexican layer dip recipe, and instead of using a layer of plain sour cream, a flavorful blended mixture of sour cream, cream cheese and taco seasoning mix is spread on top of some mashed avocados that have been combined with some freshly squeezed lemon juice. (Note: Lemon juice adds a nice tangy citrus flavor, while helping to slow down the process of the avocado turning dark in color.)
This Mexican layer dip is always great served with tortilla chips, whether packaged or
homemade
, but also tastes fabulous served with carrot sticks, sliced jicama, sliced red bell pepper, taquitos, crackers and more. Though leftovers can be stored in an airtight container in the refrigerator, it's not likely there will be any leftovers!
Ingredients
3 avocados, peeled and seeds removed
2 tablespoons freshly squeezed lemon juice
1 cup cream cheese, softened
2 cups sour cream
1 packet (1 1/4 oz.) taco seasoning mix
2 cups shredded sharp cheddar cheese
3 cups finely chopped fresh tomatoes
5 green onions, thinly sliced
1/2 cup sliced black olives


tortilla chips, taquitos, red bell peppers, jicama, carrots, etc. for dipping
Directions
In a shallow bowl, mash avocados with a fork. Add lemon juice and mix well. Spread mashed avocados evenly on a serving plate, spreading out almost to the edges of the dish. (Note: Larger dishes will produce thinner layers of dip while smaller dishes will produce thicker layers of dip.)

In an electric mixer bowl or using a handheld mixer, beat softened cream cheese until smooth and creamy. Add sour cream and mix well on slow speed or by hand using a utensil. Add taco seasoning and mix again on low or stir by hand with a utensil until fully blended.

Spread sour cream and cream cheese mixture over the avocado layer, being careful to not disturb the mashed avocados. Sprinkle shredded cheddar cheese over the sour cream and cream cheese mixture. Evenly place tomatoes over the cheddar cheese layer. Spread green onions over the tomato layer. Top with sliced olives. Garnish with a small sprig of cilantro or parsley, if desired. Serve with tortilla chips, sliced red bell peppers, sliced jicama, carrot sticks, taquitos and/or other assorted dipping foods.
Other recipes you might like: