Sun-Dried Tomato Dip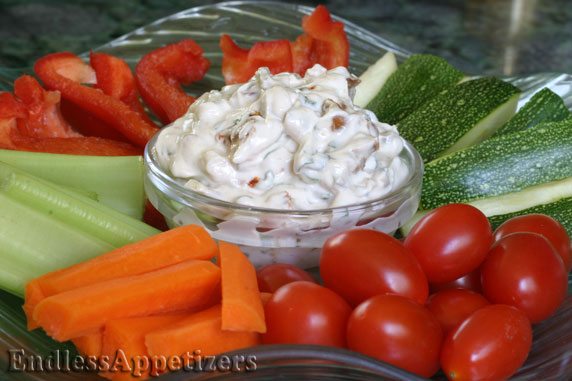 Tips:
Greek yogurt or other types of yogurt may be used. To make this dip with less calories, nonfat Greek yogurt (or other yogurt), low fat or light mayonnaise, and/or low fat or fat free sour cream may be used. Dried basil may be used instead of fresh basil leaves, if desired.
Suggestion:
Delicious with assorted fresh raw vegetables, crisp vegetable straws, crackers, tortilla chips, and more.
Healthy yogurt recipes have become very popular, most likely due to the great health benefits yogurt has to offer, as well as its versatility and how yogurt can be incorporated into all sorts of foods and drinks. This Sun-Dried Tomato Dip recipe is made with plain yogurt (Greek yogurt or other yogurt may be used), along with some sour cream and mayonnaise. (Note: To
reduce the calorie content in this dip, low fat or fat free Greek yogurt (also referred to as nonfat Greek yogurt) or other yogurt, lowfat or fat free sour cream and low fat or light mayonnaise can be used.) This homemade veggie dip gets its terrific flavor from a wonderful blend of fresh and tasty ingredients. First, the sun-dried tomatoes are soaked in a little balsamic vinegar. (Tip: Dry sun-dried-tomatoes are theh preferable choice, but oil-packed sun-dried tomatoes may also be used.) The balsamic vinegar-soaked sun-dried tomatoes are then diced, and added to the creamy dip mixture along with some chopped fresh basil, minced garlic and diced green olives. These flavors combine beautifully, and will go great with all sorts of foods, including fresh vegetables, crispy veggie straws, crackers, tortilla chips and the list goes on! If you're looking for healthy snack ideas, this healthy vegetable dip can accompany a large assortment of fresh vegetables or other dippable snacks, and makes a perfect party dip!
Ingredients
1/4 cup sun-dried tomoatoes
balsamic vinegar
1/2 cup sour cream
1/3 cup mayonnaise
1/3 cup plain yogurt (Greek or other)
2 garlic cloves, finely minced
1 tablespoon chopped fresh basil or 1 teaspoon dried basil
1/4 cup green olives, chopped
Directions
Place sun-dried tomatoes in a small bowl and add enough balsamic vinegar just to cover. Allow to soak for about 1 hour.

Remove tomatoes from vinegar and drain well (do not blot dry). Chop tomatoes finely, then mix with the sour cream, mayonnaise, yogurt, garlic, basil and olives. Cover and refrigerate until ready to serve.
Other recipes you might like: