Dips, Salsa and Sauces
Dips can be made with an endless variety of ingredients, and can certainly brighten up any party, holiday or event! Dips can also add amazing flavor, texture and color to all sorts of foods used for dipping, including crudités (bite-size fresh raw vegetables),
Baked Crostini
or
Broiled Crostini
,
Pita Chips
,
Tortilla Chips
, potato chips, corn chips, naan bread and more. Dips, salsa and sauce recipes are all included on these pages, simply because they all essentially share the same pu rpose - to add flavor and texture to other foods.
Dip recipes can be all over the map, and can be made creamy, cheesy, thick or somewhat runny. The basic ingredients of dips (before meats, vegetables or other
ingredients are added) can vary greatly, and can include sour cream, buttermilk, mayonnaise, and one or more variety of cheeses, including cheddar, Monterey jack, cream cheese, mozzarella cheese, goat cheese, Parmesan cheese, cottage cheese, and the list goes on! When it comes to the filler ingredients that truly define each dip recipe, the sky's the limit! Meat (including chicken, turkey, beef or pork), seafood (such as crab, shrimp or even salmon) and vegetables (such as red or green bell peppers, spinach, artichoke hearts, tomatoes or sun-dried tomatoes, roasted red peppers and onions (yellow, purple or green) can add color, flavor and amazing texture to dips. Dips can also be served chilled (referred to as cold dips) or hot after having baked in the oven (referred to as hot dips), both of which are usually still delicious even when cooled to room temperature. Leftover hot dips are also easily reheated in the microwave. Let's also not forget those wonderful dips that contain avocado, chick peas or garbanzo beans (as with hummus) and olives (as with
Tapenade
). One thing is for certain, when planning for a party, holiday or any event, dips are one of the easiest appetizers to prepare. Once you decide on the best dip recipe to suit your event, all you'll need is some accompanying crackers, plain crostini (
baked
or
broiled
), fresh raw vegetables (crudités), or other dippable food, and you're set to go!
Dip, Salsa and Sauce Recipes ▼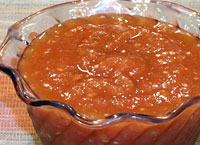 This wonderfully fresh
Tomato and Tomatillo Salsa
is made with tomatoes, tomatillos, onion, garlic and Serrano chile pepper. It's flavor is quite unique, and pleasantly differs from traditional salsa recipes that are made with tomatoes (yet no tomatillos). The tomatoes and tomatillos marry beautifully with this salsa recipe, producing a fresh, tart, and lively flavor, while the Serrano pepper adds the perfect balance of spice.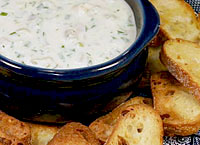 This creamy and cheesy appetizer is made with smoked sliced turkey, marinated artichoke hearts, sautéed diced green onions, and a combination of Parmesan and cream cheese, and is heated briefly on the stove and served warm (though is still delicious as it cools).
Turkey Artichoke Cheese Dip
is a great dip to serve anytime, or during the holiday season, when turkey leftovers are plentiful. This
dip
is wonderful with Baked Crostini.
This zesty
homemade ranch dip recipe
features some of the traditional ingredients found in many ranch dressing or dip recipes, such as buttermilk, mayonnaise and sour cream, along with some seasoning and minced chives. What gives this
ranch dip recipe
its lively and distinctive "zest" is the addition of prepared horseradish and wine vinegar (or rice vinegar). Ranch dip can compliment a large variety of foods.