Teriyaki Sauce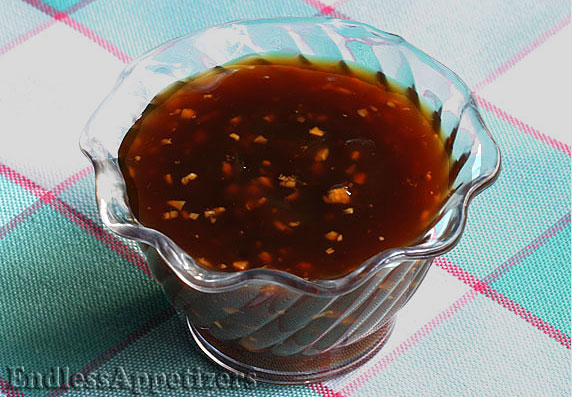 Tips:
To thin sauce, add small amounts to water as necessary.
Suggestion:
Serve with beef, chicken or pork, or as a dipping sauce for a variety of foods.
Teriyaki Sauce is a sweet and tangy sauce that although most popularly used with beef, chicken or pork, can be used in a variety of other ways, such as with shrimp or fish, or as a dipping sauce for egg rolls, chicken nuggets, chicken wings and more. Teriyaki Sauce is
known for its popularity in Japanese cuisine, but its popularity has clearly spread around the world. This Teriyaki sauce recipe is made with soy sauce, fresh ginger root, minced garlic, Worcestershire sauce and brown sugar, and has a attractive glistening appearance.
There is a difference between Teriyaki Sauce and teriyaki marinade. Teriyaki marinade has a thinner consistency than Teriyaki Sauce, and is commonly used for marinating (soaking) meats before cooking or grilling, giving the meat added flavor, moisture and tenderness. Teriyaki Sauce is used after the meat has been cooked. Sometimes both the marinade and the sauce are used when cooking meat dishes. This Teriyaki Sauce is used with the Polynesian Teriyaki Burger, but can be used in any style of hamburger, including burgers topped with pineapple, mushrooms, or with all the traditional hamburger toppings.
Ingredients
1/4 cup soy sauce
1/2 cup water, divided
1 clove garlic, minced
1 teaspoon minced or grated fresh ginger root
1 tablespoon Worcestershire sauce
3 tablespoons firmly packed brown sugar
1 tablespoon cornstarch
Directions
In a small mixing bowl, whisk together 1/4 cup of the water and cornstarch until completely dissolved. Set aside near stove.

To a saucepan, add soy sauce, the remaining 1/4 cup of water, garlic, ginger root, Worcestershire sauce and brown sugar and bring to a slow boil over medium medium high heat, stirring frequently. Once boiling, slowly add water and cornstarch mixture to saucepan, whisking constantly. Continue heating until thickened enough to coat a spoon. Remove from heat and allow to cool. If sauce seems a little too thick, stir in a small amount of water (about 1 tablespoon at a time) until desired consistency is reached.
Other recipes you might like: