Asian Sauce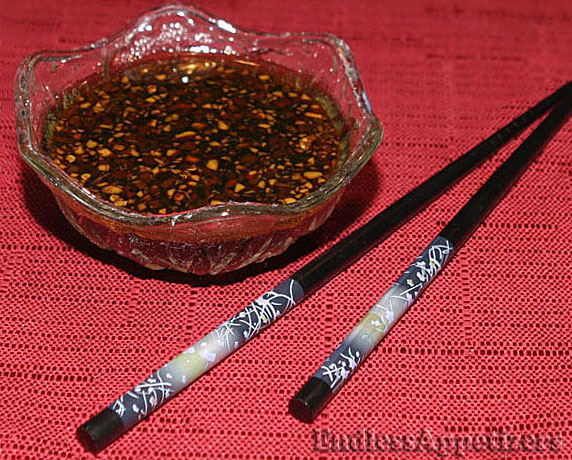 Yield:
About 1 cup of sauce
Tips:
Sauce can be freezed for later use.
This Asian Sauce recipe (also often referred to as pot sticker sauce, jiaozi sauce or Chinese dumpling sauce) is delicious served with pot stickers (also spelled
pot stickers and often referred to as jiaozi, gyoza, or momocha). See
Chicken Pot Stickers
and/or
Pork Pot Stickers
).
This Asian sauce is also a tasty dipping sauce for wontons, spring rolls, egg rolls,
Asian Meatballs
,
lettuce wraps
,
stir-fry dishes
and many other Asian recipes). When it comes to Asian sauces, this one has a beautiful marriage of ingredients, creating the perfect balance of sweet and sour and just the right amount of spice. You can make this sauce days in advance, and it stores well in the refrigerator for weeks. In fact, you can make a large batch of
pot stickers
and store them in the freezer until you're ready to cook them, at which time your potsticker sauce will be waiting!
Ingredients
3 cloves garlic, minced
1 tablespoon fresh ginger, minced
2 tablespoons sesame oil
1/3 cup soy sauce
1/4 cup rice vinegar
1/4 teaspoon ground black pepper
1/4 teaspoon crushed red pepper
2 tablespoons sugar
Directions
Combine all ingredients in small saucepan or microwaveable dish and heat until warm. May be stored in refrigerator or freezer. Reheat when ready to use.
Other recipes you might like: