Peanut Sauce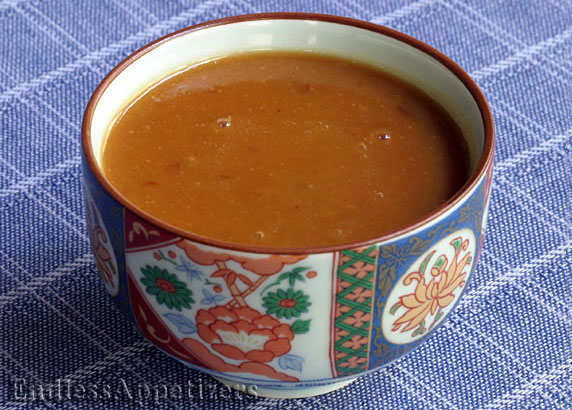 Yield:
About 3/4 cups of sauce
Tips:
Can be made in advance and stored in the refrigerator. To thin sauce, add a small amount of water.
This incredibly delicious peanut sauce recipe (also sometimes called satay sauce, Thai peanut sauce, bumbu kacang or sambal kacang) serves
as a fabulous dipping sauce for a variety of foods, including chicken, pork, spring rolls and more, and can also be used as a salad dressing. Peanut Sauce is commonly used in Indonesia, Malaysia, Thiland, Vietnam, China and Africa, and can vary in flavor and strength of spiciness. This peanut sauce recipe is mildly spicy, though can be made spicier simply by adding a little extra chili garlic sauce (see recipe). The ingredients for this richly-colored sauce feature smooth peanut butter, soy sauce, freshly squeezed lime juice, rice vinegar, a little brown sugar, and the two Asian spices that give this sauce a bit of a kick - chili oil and chili garlic sauce.
Chicken Satay with Peanut Sauce
and
Lettuce Wraps
are two examples of recipes that utilize this delicious peanut sauce.
Ingredients
1/4 cup creamy peanut butter
3 tablespoons water
2 tablespoons sugar
1 tablespoon soy sauce
1 teaspoon rice vinegar
1 teaspoon lime juice
1/2 teaspoon chili oil
1/2 teaspoon chili garlic sauce (if desired, may add up to 1 teaspoon for added spice)
Directions
In a small saucepan, combine peanut butter, water, brown sugar, soy sauce, rice vinegar, lime juice, chili oil and chili garlic sauce. Heat on low-medium, stirring constantly, until mixture begins to bubble. Promptly cover and remove from heat. Serve immediately or refrigerate until ready to serve; then simply reheat in microwave just before serving.
Other recipes you might like: