Asian Sauce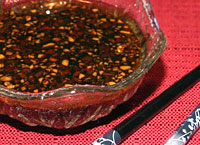 Yield:
About 1 cup of sauce
Tips:
Sauce can be freezed for later use.
Ingredients
3 cloves garlic, minced
1 tablespoon fresh ginger, minced
2 tablespoons sesame oil
1/3 cup soy sauce
1/4 cup rice vinegar
1/4 teaspoon ground black pepper
1/4 teaspoon crushed red pepper
2 tablespoons sugar
Directions
Combine all ingredients in small sauce pan or microwaveable dish and heat until warm. May be stored in refrigerator or freezer. Reheat when ready to use.