Chicken Pot Stickers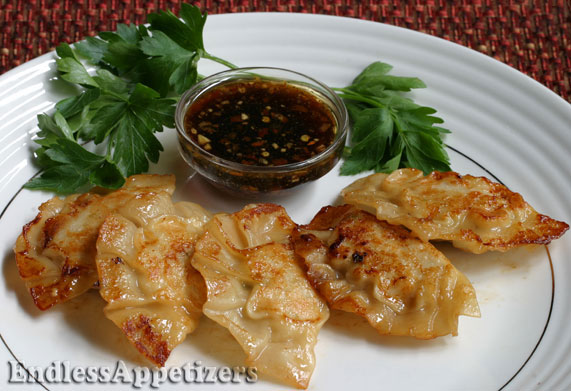 Yield:
About 43 pot stickers
Tips:
Pot stickers may be made in advance and frozen until ready to cook. Freeze on a baking sheet sprinkled with flour. Once pot stickers are frozen, they can safely be stacked on top of one another in to a storage container without sticking to each other).
Suggestion:
May also be served as a main course.
Chicken Pot Stickers (also referred to as Chinese Dumplings, Gyoza or Jiaozi) feature wonton wrappers (you can also use Gyoza wrappers) filled with a pureed mixture of chicken breast, garlic, green onions, water chestnuts, fresh ginger root and Napa cabbage and an egg to help hold the mixture together.
This pot sticker recipe also includes a delicious tangy Asian sauce flavored with soy sauce, rice vinegar, garlic, fresh ginger root and red pepper flakes for dipping, giving these pot stickers a complete flavor sensation.
The filling for the Chicken Pot Stickers is incredibly easy to put together. Coarsely chopped chicken breasts are thrown into a food processor with the other ingredients and quickly pureed to a consistency perfect for filling these dumplings. Tip: If you can only find square wonton wrappers at the store, simply cut off the corners to form circles. You can do this by placing a jar lid over the corners of wrappers as a guide (you can stack up a few wontons and cut a few at a time), then cut along the outer edge of jar lid. The circles do not need to be perfectly shaped. Leftover pot stickers may be reheated in the microwave and take about 45 seconds to 1 minute per batch
Ingredients
Pot Stickers

1 package wonton or Gyoza (also called Jiaozi) wrappers
2 boneless, skinless chicken breasts, coarsely chopped
2 green onions, chopped
3 cloves garlic
1/4 cup water chestnuts
1/2 teaspoon minced fresh ginger root
1 tablespoon sesame oil
1 cup thinly sliced Napa (Chinese) cabbage
1 egg
3/4 teaspoon salt
1/4 teaspoon pepper



Cooking Ingredients

2 tablespoons oil for each batch of pot stickers
1 14.5-oz. can chicken broth
1 tablespoon soy sauce



Dipping Sauce

3 cloves garlic, minced
1 tablespoon fresh ginger, minced
2 tablespoons sesame oil
1/3 cup soy sauce
1/4 cup rice vinegar
1/4 teaspoon ground black pepper
1/4 teaspoon crushed red pepper
2 tablespoons sugar
Directions
Pot Sticker Dipping Sauce
In a small mixing bowl, whisk together all ingredients and set aside. (Note: Sauce may be served at room temperature or warmed. To warm, just before you are ready to serve pot stickers, heat sauce briefly in a small saucepan or microwaveable bowl just until warm. May be stored at room temperature, in refrigerator or freezer.)
Filling
Place all pot sticker ingredients except wonton wrappers in a food processor and mix until all ingredients have been broken down into small pieces and blended (about 10 seconds). Transfer mixture to a bowl and place near preparation area.
Pot Sticker Preparation
Have a small bowl of water near your work area. Lightly sprinkle some flour on your work surface. Place a wrapper down on the flour, and fill with about 2 teaspoons of pot sticker filling mixture in center of wrapper. Wet the edges of the wrapper with water and fold in half, pressing the folded edges together so that they stick. For a prettier look, crimp the entire length of the curved edge with your fingers to form a pattern (like flower peddles). Set on a baking sheet or other flat surface sprinkled with flour (to prevent the pot stickers from sticking to the baking sheet). Once you get the hang of this procedure and are able to move faster, you can lay down four wrappers on your work surface at a time.
Cooking the Pot Stickers
Mix together chicken broth and soy sauce and set aside near cooking area. Heat the 2 tablespoons of oil in a large skillet and place as many pot stickers (on their sides) as will comfortably fit into the skillet. Pour about 1/2 cup of the chicken broth over all the pot stickers and turn heat up to medium-high. Cover and cook for about 5 minutes. Remove skillet cover and allow pot stickers to continue to cook for about 1 minute longer or until liquid has evaporated (this is when the pot stickers will brown). Serve browned on only one side; or, if preferred, turn pot stickers over to lightly brown other sides (you can add a little water (1-2 tablespoons) if necessary to prevent burning. Transfer cooked pot stickers to a large plate and repeat procedure for remaining pot stickers.
Serve with Pot Sticker Dipping Sauce.
Other recipes you might like: